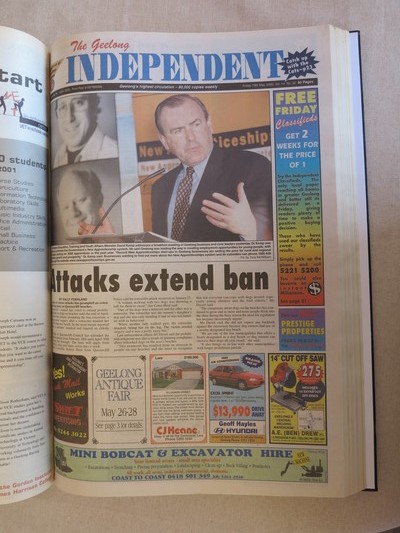 20 years ago
May 19, 2000
A spate of vicious attacks has prompted an extension of dog bans on Queenscliff beaches. Queenscliff's council has voted to extend prohibition periods for dogs on beaches until the end of April.
15 years ago
May 20, 2005
City Hall wants to axe Newtown Library during National Libraries Week. Councillor Stretch Kontelj told the Independent City officers wanted council to close the Shannon Avenue branch to relieve funding pressure on the region's library service.
10 years ago
May 21, 2010
Plans to shut a Corio school this year are causing unexpected "angst" and "stress" among parents and students, according to Geelong councillor. State government has revealed plans to close Flinders Peak Secondary School in about six months then Norlane High and Corio South Primary School in 2012 and 2013 respectively.
5 years ago
May 22, 2015
Deakin University and Vice-Chancellor Jane den Hollander face discrimination claims by former head of architecture Hisham Elkadi. A federal court hearing is scheduled for September after papers filed with the court alleged Professor Elkadi was denied a promotion because of his race, colour and national extraction.
*Deakin University and Professor Elkadi later reached a confidential settlement outside of court