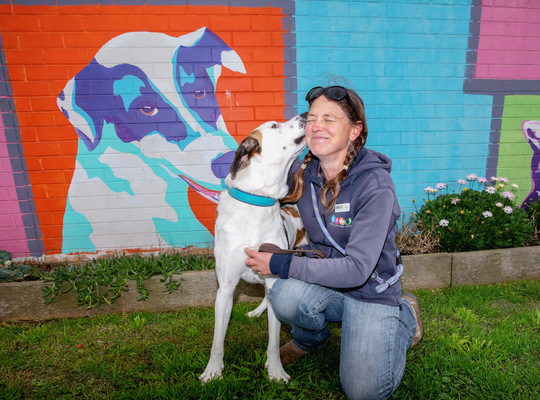 By Luke Voogt
Bear is one of just a few pooches at Geelong Animal Welfare Society (GAWS) looking for a "forever home" following a "sharp spike in adoption" recently.
The boisterous 18-month-old bull Arab loves to run, play and affectionately lick his handlers, although he still needs to learn some manners.
GAWS experienced a 47 per cent increase in all adoptions during extended school holidays amid COVID-19 restrictions, according to the charity's Cara Kirwin.
Locals were taking advantage of prolonged periods at home to settle their new furry friends, she explained.
"They're certainly settling more easily," she said.
"In recent weeks our adoption numbers have dropped back to normal with around 55 to 60 animals finding their forever home each week."
But while adoptions spiked in April, the pandemic has hit GAWS hard with the charity losing a quarter of its income over the past two months, Ms Kirwin said.
The decrease occurred because of restrictions forcing GAWS to close its op shops and cancel fundraising events, she said.
"We have a plan to reopen them but we haven't got a set date at this point."
GAWS had also switched from a walk-in service to questionnaires and appointments for choosing prospective human companions while maintaining social distancing, Ms Kirwin said.
But the measure meant less customers for the shelter's pet shop, which helped fund its operations.
Ms Kirwin encouraged locals to donate at www.gaws.org.au/donations.
"Even a small amount will go a long way to supporting the animals already in care and those still arriving daily," she said.
"We understand that it's an extremely challenging time for everyone and are incredibly grateful for any support the community is able to offer at this time."