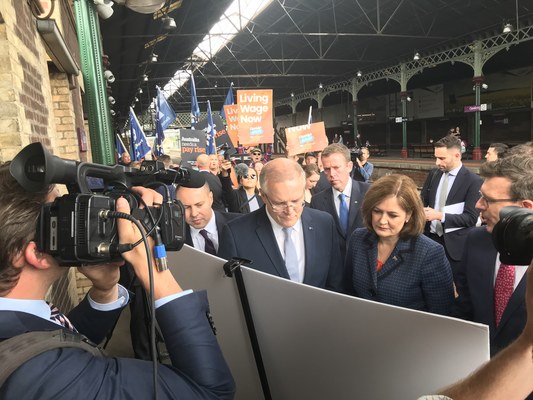 By Natalee Kerr
Prime Minister Scott Morrison dodged protesters on Friday morning at Geelong Railway Station on his way to announce $2 billion for fast rail to Melbourne.
Mr Morrison snuck through an alternative entrance to avoid waiting union protestors before accusing the group of attempting to disrupt the event.
"I just heard them chanting union power, union power, union power that's what the future of this country looks like under a Shorten government," Mr Morrison said.
"We're simply here trying to create jobs and build projects that improve the liveability of our cities."
The nation-first project would see trains reach speeds up to 200km/h, slashing commuters' journey from Geelong to Melbourne by half, Mr Morrison said.
He described the proposal as "one of the most significant regional rail infrastructure projects that Victoria has seen".
"The opportunity for a half-hour rail trip between Geelong and Melbourne will change not only Geelong and Corangamite but it will also change Melbourne itself," Mr Morrison said.
"What comes with growth is the need to plan for growth and to build for that growth, and that is what we're doing."
Construction of the project would begin within 18 months and be completed by 2030, according to government.
Mr Morrison said the investment would allow Geelong and Corangamite residents to make "real choices".
"I want those who live in places like Geelong to be able to have a reasonable commute to ensure they can get home on time and they can get to work without having to get up well before dawn."
Mr Morrison said investments were where "projects genuinely start."
"You can't get a fast rail on drive-through, this is not a fast food process we're engaged in here.
"The train never leaves the station unless people get on board and it starts moving, and that's what we're doing here today."
Corangamite MP Sarah Henderson said the announcement was a "game changer".
"This is an incredible day for Geelong, Corangamite and the entire south-west of Victoria," the Liberal MP said.
Geelong's council has allocated $100,000 over two years to develop a Fast Rail strategy document.
Geelong Mayor Bruce Harwood said there had been "positive discussions with federal Labor on the matter" and invited Opposition Leader Bill Shorten to meet with him "at any time."