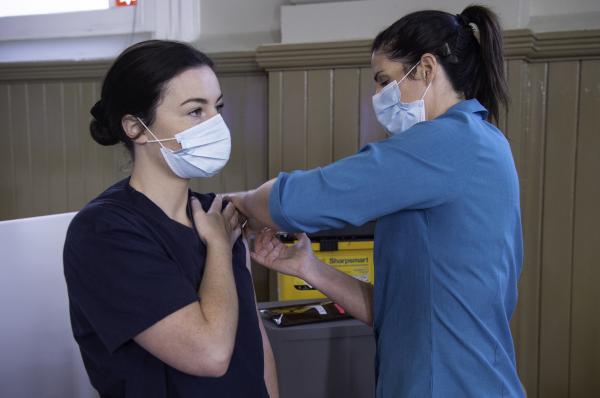 By Luke Voogt
Geelong health workers began receiving Pfizer's COVID-19 vaccine on Monday beginning with acute care nurse Jessica Rhook.
Ms Rhook was the first of 184 Geelong-based healthcare and port workers to receive the vaccine at University Hospital Geelong that day.
"It's important for me to get immunised and it feels good to be setting an example for the community," she said.
"This will protect myself, my patients and the whole community.
"We all worry about taking the virus home to our family. It's in the back of my mind when I'm working on the COVID ward.
"People I work with are definitely excited about the vaccine and I feel confident about it being safe with all the scientific reviews and testing, and the fact it has been successfully rolled out in other countries."
Those receiving the vaccine on Monday included frontline healthcare workers in emergency care, acute wards, immunisation, COVID-19 testing and aged care, and port and border workers.
Barwon South West Public Health Unit director Eugene Athan praised those in priority groups for signing up for the jab.
"It's pleasing to see so many staff putting their hand up to receive the COVID-19 vaccine today on the first day of the program," Professor Athan said.
"The COVID-19 vaccine is safe and highly-effective against all strains – it's an important part of our defence against the virus and in protecting our vulnerable population.
"We would like to thank those in the first phase of the vaccination for protecting themselves from serious COVID-19 health implications, as well as their family, friends and colleagues."
Patients will require a second injection in a few weeks in order to obtain a vaccination certificate.
Staff and residents in public residential aged care facilities will receive the vaccine next, with about 2000 people in Geelong to be inoculated in coming weeks.
Aged care and disabled residents at homes in Drysdale, Lara, Ocean Grove, Point Lonsdale and Portarlington will also begin receiving the vaccination as part of phase 1A of the Commonwealth's rollout.
At TLC Homestead Estate in Wallington "up to" 130 aged care residents began receiving vaccine on Monday, according to federal senator Sarah Henderson.
Barwon South West Public Health Unit plans to establish more vaccination centres for the broader community once the Oxford AstraZeneca vaccine becomes available.
The vaccine, which is less effective but easier to store than its Pfizer counterpart, will be administered in later phases of the rollout.