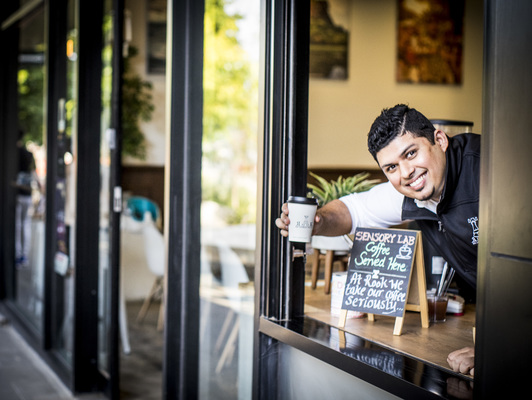 By Luke Voogt
Revitalising Central Geelong and some traders have defended the city centre's Green Spine project amid accusations of congestion and poor design.
Shop vacancy rates had reduced across central Geelong from 9.54 per cent last April to 7.9 per cent last month, according to council's Brett Luxford.
"As the second-fastest growing city in Australia, central Geelong requires quality infrastructure and a modern vibrant city," council's investment director said.
"The Green Spine is a key project to address this."
Revitalising Central Geelong had received a variety of feedback from traders in Malop Street, with council recording increased pedestrian numbers, Mr Luxford said.
"One of the business owners in the first block of Malop Street is renovating and expanding their premises to cater for the increased trade."
Revitalising Central Geelong had finalised the design of the next section of the Green Spine between Gheringhap St and Moorabool St and was planning for remaining sections, Mr Luxford said.
But he declined to provide a date when construction would commence.
The green spine would eventually link into the city's planned bicycle network to Geelong West, he added.
Mr Luxford's comments come after 25-year Malop St trader Sebastian Loader last week described project as a "disgrace" and "a clogged artery".
But restaurant owner Yeti Kambukage said he had experienced an upturn in sales following the construction of the controversial project.
"The green spine has become a meeting point – it's become such a nice experience especially with a cup of coffee."
Part of the growth in sales had resulted from more "corporates" and government organisations in central Geelong, Mr Kambukage said.
But Mr Kambukage admitted bike lanes on the project were under-utilised and that removing turning lanes at Malop St had caused congestion.
"People don't see the future just yet, in terms of bike lanes Geelong is getting there," he said.
"But so many customers still use the bike lanes to have their coffee in the morning."
Mr Kambukage, who previously lived in Melbourne, said projects there had changed commuter behaviour over the long term.
"When the city becomes more congested more people will use the bike lanes," he said.
"The traffic has come from people who are passing by. There are alternative routes for people to take."
He also defended the lack of on-street parking on Malop St and pointed out central Geelong's two shopping complexes had a lot of parking.
Caf¨¦ owner Marlee Campleman said her businesses had increased but mainly because of the increasing number of headquarters in central Geelong.
"I wouldn't say it's because of the green spine, I'd say because Worksafe opened," she said.
"I think the main idea is for people not to just drive down it, to make it more of a shopping area."
Last week council named the troubled Malop Street mall a "high priority" and urged Revitalising Central Geelong follow suit.
But Mr Luxford said the mall was property of Geelong's council.