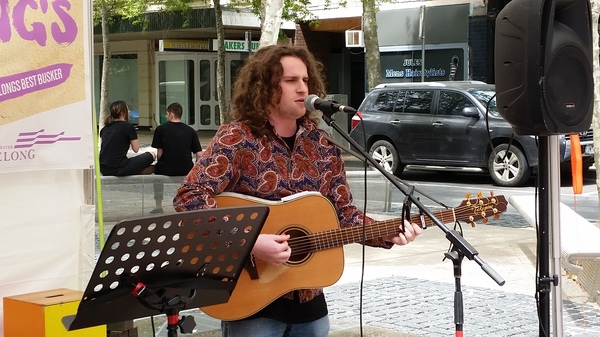 By Luke Voogt
Seven local musicians will face off behind the mike in Little Malop St tomorrow to vie for the title of Geelong's Best Busker.
Organiser Steve Thew described whittling down more than two-dozen contestants to the final six over a week of heats as "very difficult".
"The amount of the talent we have in Geelong is absolutely incredible," he said.
Beginning at midday Alina Davie, Jacob Carr, Gary Jones, Joey Donald, Rohan Lindsay and brother and sister duo The Pretes will play their hearts out for the busking trophy.
The winner will also win $500, a paid gig and a chance to play at Airleys Inlet Open Mic Music Festival.
Finalist Joey Donald recently played in a Geelong stage production of We Will Rock You, Steve said.
"To see a person going from busking to onstage is quite a thing."
The rest of the finalists were a mix of aspiring musicians and experienced performers who had played around Geelong, the Surf Coast and Australia, Steve said.
"They're all generally just people who have given it a go."
A long-time busker himself, Steve approached council with the idea for the competition four years ago.
"I thought it be a good idea to get a festival going," he said.
About 150 people have taken part in the competition so far with previous performers including dancers, kids and grandparents.
Rama Jordan, one half last year's winning group Sunrise Monarch, will join promoter Robbie Carroll and Steve's son Adam Thew on the judging panel.