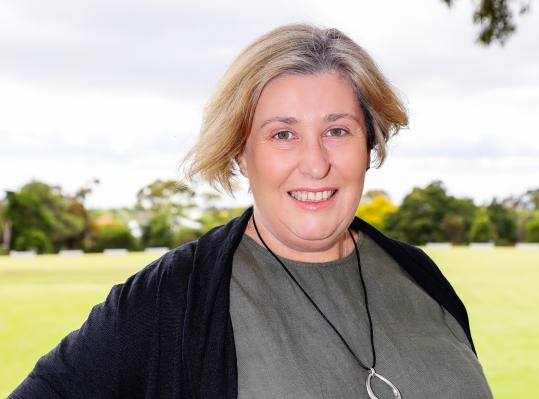 Lisa Armstrong-Rowe pioneered women's cricket in Geelong and helped guide local leagues through COVID-19.
She speaks to Luke Voogt about going from wife of a cricket tragic to vice president of Geelong Cricket Association (GCA).
Tell us about you…
I live in Ocean Grove and I'm a youth worker at Clonard College.
I have a daughter, Darcie, in year 12 and a son, Jed, in year 10. Darcie's the cricketer in the family. She loves her cricket and plays at St Joseph's.
I first moved to Geelong when I was 11. It was a big change coming from a Colac dairy farm to South Geelong. I went to Clonard College.
I met my husband Paul at the football nearly 30 years ago, when my cousin Darren Forssman was playing for Geelong against Sydney.
Paul's a Geelong boy and he and his dad were very involved in Thomson Cricket Club.
We began our married life in Adelaide but something brought us back to Geelong.
Both our families are here and it's such a great place to raise a family – it's got everything you need.
How did you become GCA vice president?
I've always been involved in community organisations – I've been on several boards and committees over the years.
I love cricket and I'm married to a cricket tragic. Darcie was playing and Paul was coaching when I was approached by current president Rob Vines.
He was running for president and trying to put together a group of people that would support his vision.
In July 2019 I joined the board heading up women's cricket and last year I became vice president.
We were doing some strategic planning on what we and our member clubs wanted the GCA to look like then COVID hit at the end of the 2019-20 season.
We had to quickly adapt to all sorts of scenarios for 2020-21– would we have a season? What would it look like? What would happen if it shut down?
Luckily, we were able to start just a few weeks later than usual and at this stage it looks like we'll get the full season in.
How have you enjoyed developing women's cricket Geelong?
Being involved in the inception of this really exciting time for women's cricket is so much fun.
There are so many dedicated, passionate and enthusiastic people who want to have a good quality women's program.
We had 17 teams in our first season, which was almost double what we expected. Now we've got 28 teams in our second season.
What are your favourite things to do locally?
I love sitting on the deck at St Joseph's on a Sunday afternoon watching the girls play cricket and enjoying a glass of wine.
We love getting to the local off-leash beach with our dog, who enjoys some quality time making new canine friends.
We enjoy getting out on the waterfront or having a coffee or lunch with friends. There are so many lovely cafes and restaurants along the coast and in Geelong.
How are you coping with COVID-19?
It certainly changed how schools operated very quickly and we had to do some fancy footwork around how we delivered services to students and their families.
We also had weekly wellbeing surveys to make sure students didn't get lost in the pandemic.
What's something about you that people might not know?
I recently trained to become a celebrant and I have a particular passion for working in the funeral sector.