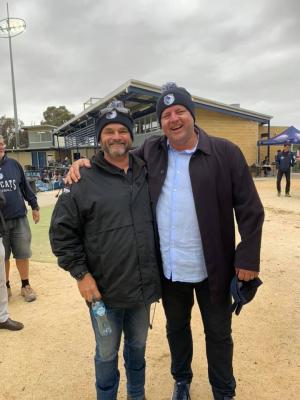 The Geelong Baycats are the region's only summer baseball club and one of the most successful in the state. President Adam Renouf spoke to Ash Bolt about his love of the club and the sport.
Tell us a bit about yourself.
I was born and bred in the western suburbs of Melbourne, but we relocated down here probably about 15 years ago.
I run my own business as a financial planner.
I got involved with baseball and the Baycats when there was a school flyer that came around to get the kids playing sport and they took up baseball.
We had zero experience with in any way, shape or form, but it was great and we've been involved ever since.
How did you end up as president?
I literally started out helping raking grounds and then being an assistant coach here and there.
From my financial services background, I said I'd help the community in a treasurer type role.
I was treasurer for seven years, and now this is my third year as president.
It's been interesting and challenging in the COVID environment we're dealing with, but we've been really lucky that we've had the induction of [ABL team] Geelong-Korea because that gives us another level of experience.
We are an exceptionally successful club for small minority regional sport and I'm very proud of that.
What is it about baseball you enjoy?
The thing that really appealed to me is that, especially the junior level, every kid plays every position.
Like most parents, I took my kids to Auskick and the better kids always tended to kick it to themselves and take control.
With baseball, every kid of every different level of ability gets to play every position and have a go.
I played cricket myself as kid and when you get out, you're out, that's it. In baseball, you get out and 20 minutes later, you get another bat. So there's more of that on ongoing activity.
It's also been a real really, really fun environment. Both my kids have been on some trips to the US through baseball.
How are you feeling about this season?
I'm really, really looking forward to it.
We're a pretty strong club and the only regional division one club, so we play against sides in Melbourne.
We've got six men's sides, two women's teams, nine charter [juniors] sides and four tee ball sides too, so we've about 130 juniors and 80 seniors at our club.
The season started last weekend and I'm looking forward to seeing how we go.
Outside of baseball, what's your favourite thing to do locally?
We're a family of scuba divers, so we love taking advantage of the Surf Coast and getting underwater.
Twenty feet underwater there's no mobile phones, nobody's busting your chops, it's really relaxing.
We're really lucky, we believe the dive here, and we may be a bit biased, is just as good as anywhere like the Great Barrier Reef.
Last year we did a few deeper dives on some of the sub wrecks and that was absolutely amazing.
What is something people may not know about you?
I lived and worked in the United States for a year.
I was an assistant property development manager for a property management development and condo association in New Hampshire in 1994.
It was magnificent until the white stuff started to come down, then it was no good – there was too much of that.