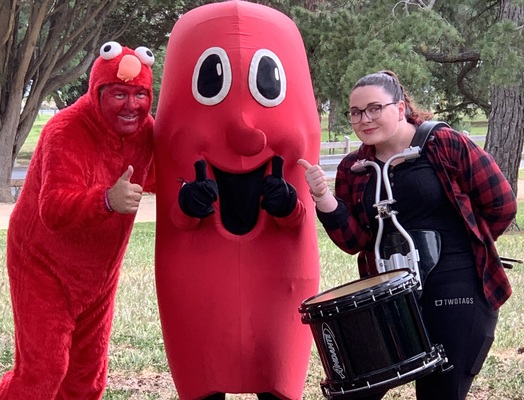 by Luke Voogt
After undergoing two kidney transplants already at age 20, Louie Hehir wants to give back to the charity that has given him "so many opportunities".
Louie had his first transplant at age five. But when that kidney failed at age 10 he spent four years on dialysis as he waited for another.
"I've got quite a few more years left on this one hopefully," the Geelong West local said.
"I had a little health scare at the start of the year but, touch wood, I'm going well."
Louie joined about 25 people, including Geelong councillor Anthony Aitken, in the inaugural Geelong Big Red Kidney Walk at Eastern Park on Sunday.
"We want to keep growing the event and raising awareness of Kidney Health Australia and the brilliant work they do," he said.
Louie remembered visiting Gold Coast theme parks while on one of the charity's Kidney Kids Camps, which "took away the stress and anxiety of having a chronic health condition".
"They bring people from across the country who have kidney disease and transplants. It makes you feel normal for a week."
Louie hopes to eventually grow the Geelong Big Red Kidney Walk to 200 people.
The uni student and aspiring politician is also campaigning for legislation changes requiring people to "opt out" of donating their organs when they die rather than "opting in".
Former Geelong Cat Tom Lonergan, who lost a kidney in an infamous on-field collision in 2006, was scheduled to attend but was unable to for family reasons.
To donate to Louie's cause visit www.bigredkidneywalk.org.au/geelong