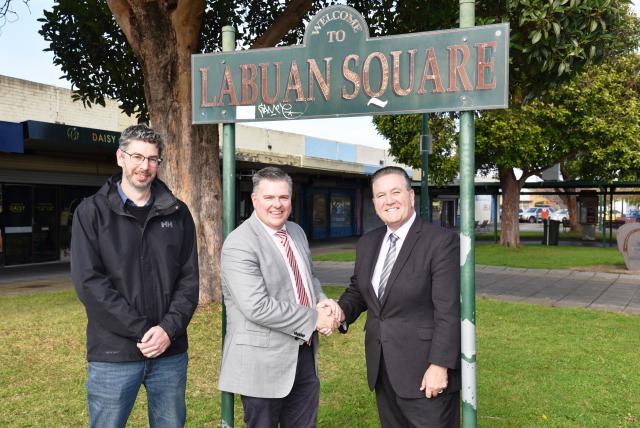 The transformation of Labuan Square will soon become a reality with the state government and the City of Greater Geelong joining forces to update amenities within the Norlane shopping strip.
State Member for Lara John Eren MP joined Windermere councillor Anthony Aitken to announce that the City of Greater Geelong has been successful in attaining a Creating Safer Places grant of $226,000 for improvements to Labuan Square.
The modifications include improved lighting, Smart Pole installation (including CCTV and free wi-fi) and relocation of the public toilets.
The upgraded toilets and the provision of wi-fi have been funded by the Department of Justice as part of the grant.
Along with the commitments of the state government, the City of Greater Geelong is investing $250,000 in public space improvements that celebrate the natural environment installing additional seats, a children's fountain and public art.
The City has worked with Wadawurrung Traditional Owners Aboriginal Corporation, Norlane Community Initiatives and the local community to create the designs for the redeveloped area.
The artistic features of the new design tell the story of the four distinct stages of nearby Cowies Creek: the grassy plains of Moorabool, the origins of the creek; the basalt rocks of the gullies; open water and wetlands; and lastly, exiting through the bay and cliffs.
"This project has been a labour of love since I was re-elected in 2017 and through personal advocacy to the CEO by showing him the space firsthand to demonstrate something had to be done to restore pride in this community space, I gained his and the organisation's support," Windermere Ward Councillor Anthony Aitken said.
"I welcome the state government's contribution to this project. The state's commitment now doubles the amount of funds originally planned and means we can try and meet community expectations, and the area can benefit from a much larger renewal investment.
"Norlane is a wonderful community and deserves this investment."
The Victorian government has contributed $100,000 from the COVID Safe Outdoor Activation Fund, which is being used for upgrades to the space, including improved landscaping, planter boxes, street furniture and shelters, along with spaces for alfresco dining in Labuan Square.