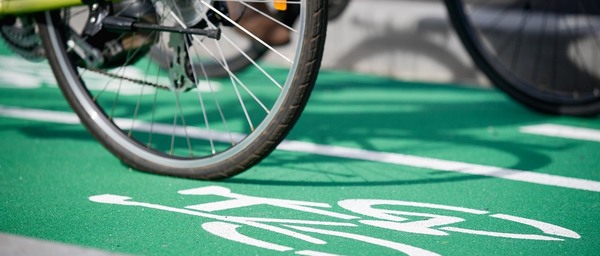 By Luke Voogt
Cyclists and motorists face potential head-on collisions in a "disjointed" 90-metre section of Geelong's planned Principal Bicycle Network, according to a local service station operator.
John Verikios took aim at the "incoherent, over-engineered and unsafe" section after council postponed awarding a contract to build the Geelong-to-Barwon River stage of the network last month.
The deferred tender plans include a section of bi-directional bike lanes at the front of Mr Verikios's South Geelong service station transferring from sharing the footpath to the side of Moorabool Street and then back onto the footpath.
With about 500 cars using the service station daily, motorists veering to the left side of the road to turn into the service station could collide head-on with cyclists, Mr Verikios said.
"If they're going to be using the footpath before and after me, it makes sense to use it for my 90-metre stretch.
"Then all [motorists will] have to do is give way to anybody on the footpath."
Mr Verikios accused council of failing to consult with him adequately on the plans, but council's city services director Guy Wilson-Browne rejected the allegation.
"The city has regularly engaged with Mr Verikios at various stages throughout the project," Mr Wilson-Browne said.
The safety fears come after Brownbill ward councillor Eddy Kontelj on April 27 moved a successful motion to delay awarding a $2 million contract to Enoch Civil to build the Geelong-to-Barwon River stage.
Cycling Geelong president Helen Lyth slammed the deferral, given council had already adopted plans, saying the move put cyclists in jeopardy.
"Once again, you place the desires of motorists above the needs of all other road-users," Ms Lyth said
But Cr Kontelj said he "did not feel comfortable" he "had sufficient information" on the night to approve the tender.
"I had questions on the plan and the tender, particularly with regards to cyclist safety, and entry and entrances along the route for both cyclists and vehicles.
"There's a number of areas where cars are crossing over the bike lanes.
"My job is to be fully-informed. I'm not going to apologise for that."