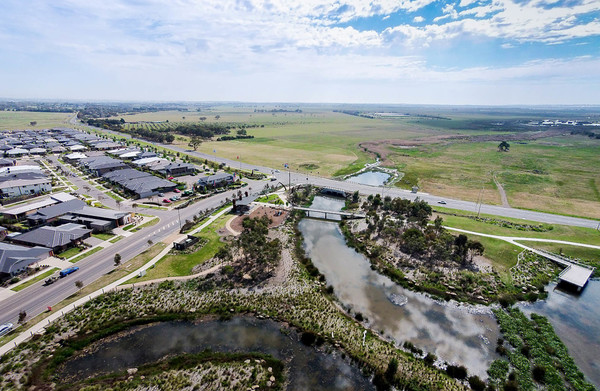 by Luke Voogt
Geelong is missing out on "hundreds of millions of dollars" due to government not recognising it as a "growth zone", according to a former development institute chair.
"I just don't think it's fair that Geelong is missing out," said Tom Roe, former Geelong chair of the Urban Development Institute of Australia (UDIA) .
Mr Roe took aim at a one-off State Government tax on developers in rapidly-growing areas on Melbourne's fringe to raise money for infrastructure.
"Ludicrously" the Growth Areas Infrastructure Contribution did not apply to Geelong developers despite a local "population explosion", the Barwon Heads investment banker said.
Recently, respected demographer Bob Birrell predicted Geelong's population could surge to 400,000 by 2041.
Armstrong Creek is one of the fastest growing areas in regional Victoria and Geelong's council has plans for 110,000 new residents in growth areas north and west of the city.
A Growth Areas Infrastructure Contribution for these areas could put "hundreds of millions of dollars back into Geelong's coffers", Mr Roe said.
"With the right level of tax, we're potentially even talking about billions of dollars!
"And yet, Geelong's growth is not being seen in the same light as areas of Melbourne which are also experiencing strong growth.
"Those communities are getting huge benefits from the Growth Areas Infrastructure Contribution. Why shouldn't the Geelong community be entitled to the same sort of support?"
The contribution currently applies to the municipalities of Cardinia, Casey, Hume, Melton, Mitchell, Whittlesea and Wyndham.
Under the contribution, developers pay between $97,360 and $115,640 per hectare for title transfers, subdivisions, building permits and significant acquisitions meeting certain criteria.
"Obviously some property developers and landowners looking to capitalise on Geelong's boom won't be happy with the prospect of paying a levy like this," Mr Roe said.
"But … other developers and landowners enjoying major gains in other parts of Victoria are paying the levy and still making a profit."
Mr Roe ran for Geelong council in 2017 and reportedly has $120 million invested in the city.