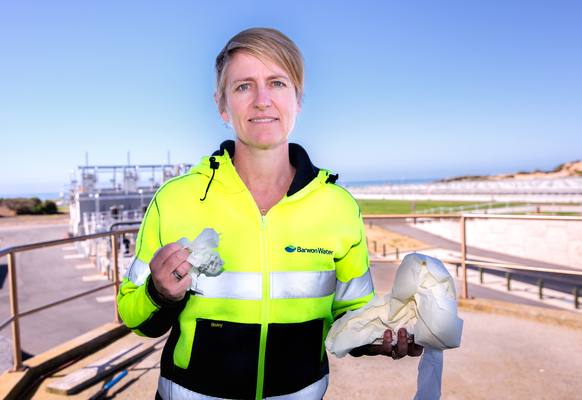 Wet wipes, condoms and even toys are wreaking havoc in Geelong sewers as Barwon Water urges customers not to treat toilets like rubbish bins.
The water authority's message to flush only the 'three Ps', pee, poo and toilet paper, was not reaching some customers, according to managing director Tracey Slatter.
Barwon Water often found items such as nappies, cotton buds, apple stickers and oils that could cause blockages in its sewerage systems, Ms Slatter said.
"This is a really serious issue as these blockages can lead to raw sewage spilling out into streets or creeks, or even people's properties."
The blockages not only wreaked havoc in sewerage systems, but often left residents and businesses with expensive plumbing bills, Ms Slatter said.
Barwon Water removed about seven tonnes of rubbish from its largest water reclamation plant at Black Rock every week, she said.
"People can help to keep the sewerage system and environment clean by putting a rubbish bin next to the toilet and talking to their families about what can and cannot be flushed."
Geelong's top worst offenders in order from number-one are: wet wipes; cotton buds; fabric; plastic; fats, grease and oils; food scraps; nappies and nappy liners; condoms; sanitary products; and children's toys.