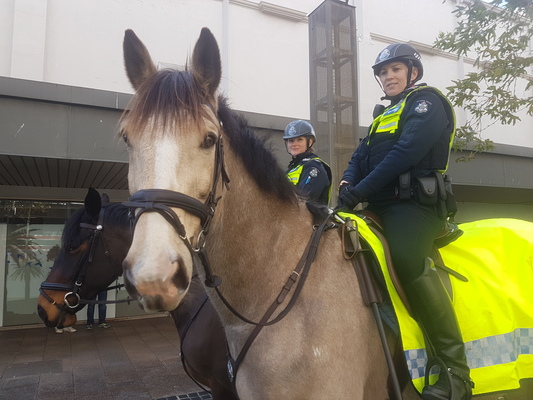 by Luke Voogt
Teens "running amok" in Little Malop St Mall have prompted state opposition to renew calls for a permanent police presence in the trouble hotspot.
Shadow police minister David Southwick visited the mall recently "only to see teenagers running amok and finding distraught traders facing regular fights, theft and damage to their shops".
"We need a permanent police presence in the mall and a different approach to help our youth," he said.
"The Andrews Labor Government is failing our community when young people aren't in school or working but hanging around and causing trouble in public areas.
"Unless Daniel Andrews puts some effort and energy into those young people they will end up becoming hardened criminals in the future."
During Mr Southwick's visit small business workers and owners told him customers were afraid to visit the area, he said.
Liberal Member for Western Victoria Bev McArthur in parliament last Friday repeated calls for a stronger police presence.
"These problems are not new, but if Geelong is to have a thriving city centre, this particular crime issue must be solved," she said.
But Police Minister Lisa Neville said "targeted operations" had turned around the "issues occurring in the mall".
"Perhaps Bev McArthur would benefit from a briefing from the local police."
Police had "invested significant resources" including 24-hour CCTV monitoring, mounted patrols and specialist youth workers to fight crime in the mall, Ms Neville said.
"I have been regularly briefed on the work Victoria Police are undertaking and I want to thank them for the dedicated resources and efforts they have put into the mall."
Protective Services Officers were also patrolling nearby bus stops thanks to new government legislation, Ms Neville said.
State Government had funded an additional 91 officers in Geelong that police were deploying "where and when they are needed", Ms Neville said.
"We have given them the resources they need and I trust their judgement on how best to utilise those police to keep our community safe."
The mall has long been notorious for violent behaviour.
But earlier this year a TV segment featuring multiple brawls brought national attention to the troubled area.
Last month police launched a much-publicised operation to crack down on crime in the mall.
Some community leaders have suggested spreading Moorabool St bus stops across central Geelong to help revatilise the area.
Others have suggested replacing the mall with car parking.