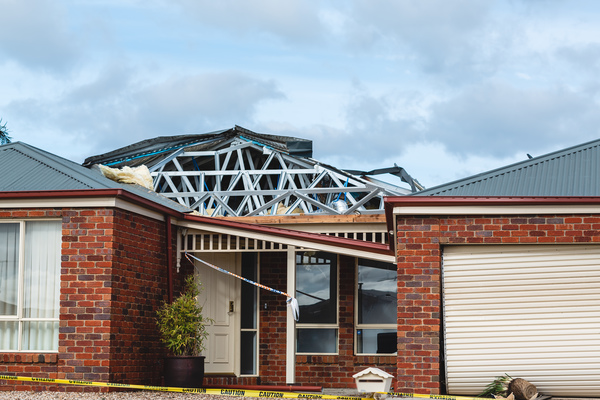 By Luke Voogt
A "mini tornado" tore a path of destruction through Waurn Ponds, Grovedale and Armstrong Creek this morning, ripping roofs off houses and flinging tiles across streets.
The storm cut a swathe through the suburbs from Geelong Ring Road to Lower Mt Duneed Road just after 1am.
"Our neighbour has someone's roof in his driveway," Cottonwood Way resident Alicia Wakeman told the Independent.
"It obviously belongs to someone in another street because it doesn't match any of the roofs in our street."
Ms Wakeman remembered a "tiny rumble of thunder in the distance" and the wind picking up before, out of nowhere, the freak storm hit.
"It was the biggest sound I've heard in my life – it was like a bomb went off," she said.
"It shook every window and wall in my house. "We still can't figure out if the sound was a lightning strike or the wind tearing through the houses.
"You could hear the wind hitting the roof and dragging the tiles off. It felt like mini tornado."
The storm ripped holes in her roof and tore her double gates off their hinges, Ms Wakeman said.
It flung roof tiles across the street, smashed car windows and even ripped a split system air con unit from a house, she said.
The storm left the primary school teacher unable to teach her students from home.
"They thought it was pretty exiting when I said I couldn't do online teaching," she said.
SES crews attended more than 180 callouts after the storm hit, according to South West Region operations manager Jessica Sullivan.
"If you look at the jobs on a map you can see it's pretty much ripped through in a straight line," she said.
"We've still got about 60 jobs that we need to clear, so we'll keep going into tonight."
About 35 SES volunteers were working with the CFA to put tarps over as many roofs as they could before rain, fatigue and failing light made the work too dangerous, Ms Sullivan said.
"We've seen houses that have lost the majority of their roofs and four that we've classified as uninhabitable."
Specialists from the Bureau of Meteorology were still trying to classify the "concentrated wind event", she said.
"The residents have certainly been describing it as a tornado."
While authorities issued a wind warning on Tuesday, the "brutal" storm far exceeded expectations, Ms Sullivan said.
She was reluctant to estimate the damage bill but said Ironbark Street in Waurn Ponds had been worst-hit.
"There's definitely been a lot of insurance evaluators out there today so it would be a pretty hefty bill," she said.
Ms Sullivan said SES volunteers that afternoon showed "extreme dedication to their community" after the storm hit, ironically, on Wear Orange Wednesday.
"It's the day that we normally stop and thank our volunteers but thankfully they don't stop.
"They don't seek that praise, they just want to crack on and get the job done. They're all out there demonstrating exactly why we should be grateful for them."