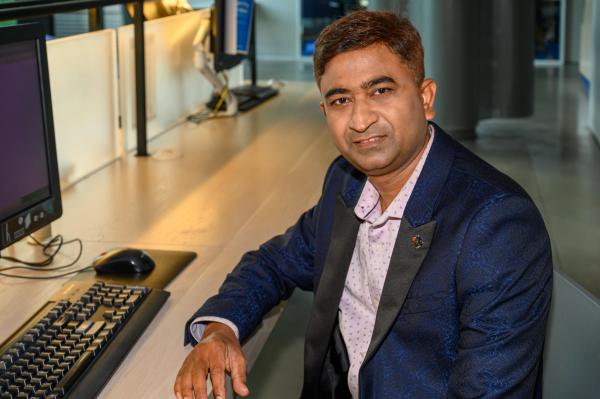 Ash Bolt
A Corio academic has been recognised with a prestigious international science award.
RMIT University associate professor Dr Enamul Haque was recently awarded for the Scientist Medal by Swedish organisation the International Association of Advanced Materials.
The Scientist Medal acknowledges the contribution of scientists from across the world to "interfacing the materials for multi-inter-trans disciplinary fields of science, engineering, and technology" and encourages ground-breaking research.
It has been awarded to scientists and researchers in more than 70 countries.
Dr Haque said it was both an honour and a surprise to receive the award, which was adjudged by the IAAM's panel of experts.
"It was unexpected, but was absolutely great," he said.
"For me, this award means that many-years-long efforts and hard work of my research team in the area of material science were recognised and appreciated at the highest level.
"It also shows the importance in the design and construction of new materials."
Dr Haque was recognised for his research over his academic career, which started with his PhD in chemical and biomolecular engineering from the University of Sydney.
His research has taken him around the country and the world, before he and his family settled in Corio four years ago while he was a researcher and lecturer at Deakin University.
Dr Haque said his research focus specifically on nanomaterials – materials and chemical substances that are too small to be seen with the naked eye.
He said some of his most notable research had involved the use of nanomaterials in fuel cell batteries.
"Usually the platinum metal is used for fuel cells and batteries to produce the electricity in for example, the battery in your car," he said.
"That was all they really used, but platinum metal is very expensive, and also it is not stable after a certain time.
"I was able to produce some carbon nanomaterials which doped with nitrogen.
"So there's no need now to use the platinum metal, [because] there's the nitrogen-doped carbon materials that can be used, instead to produce the energy.
"But the more scientific thing that I identified was that that there's some particular type of nitrogen that plays the main role to produce the energy.
"There are about five types of nitrogen … but under various kinds of nitrogen-doped carbon, one particular nitrogen plays the role to produce energy.
"So this award was recognition of that research output across my whole career and the contribution to making new kinds of materials."
Dr Haque said the research could have an important role in increasing efficiency in the energy sector.
"In the government sector at the moment, they are providing funding for the energy sector to produce the new materials that can be used to produce storage, like a super capacitor, a battery, or fuel cells that can store energy," he said.
"That had the good impact in the Australian industry, because it is possible to produce a new innovative industry or prototype industry where these kinds of materials can be produced in huge amounts or on a large scale.
"These materials can then be used for Australian innovation and developing new technology."
Dr Haque said nanomaterials had many other uses beyond energy production, which he had also researched throughout his career.
"When I was at Deakin University I worked in the school of medicine with nanomaterials … and the making on nano-sensing devices," he said.
"I'm now at RMIT in the school of engineering, where the work is more focussed on nanomaterials, carbon materials, that can be used for electronic devices like battery fuel cells.
"We're also looking at how they can be used in sensing devices that can be used to detect toxic gases like carbon monoxide, carbon dioxide, nitrogen dioxide and things like that.
"There's also applications for biomedicine, because I created nanomaterials that can carry the drug and be traced during cancer treatment.
"I work across multi-discipline areas of science – chemistry, chemical engineering, biomedicine – and we're creating new materials and finding innovative new ways to use materials."
Dr Haque said he really enjoyed the research and finding new solutions to problems.
"I especially enjoy working with new materials that weren't used in Australia before," he said.
"When I first started at the University of Sydney, Australia was a bit behind in its research compared to other countries … but now the research we're doing is parallel to what's happening in the US, the UK and Germany.
"That's what I've enjoyed – at the University of Sydney, we were working the metal organic framework that was cutting edge research.
"Now we are trying to produce liquid metal-organic frameworks, and that is a really new thing to be produced here in Australia."
Along with receiving his medal, Dr Haque also had to provide a lecture for the IAAM, which unfortunately had to be held online due to the pandemic, but he said it was a "great experience".
"It's been a really exciting time," he said.