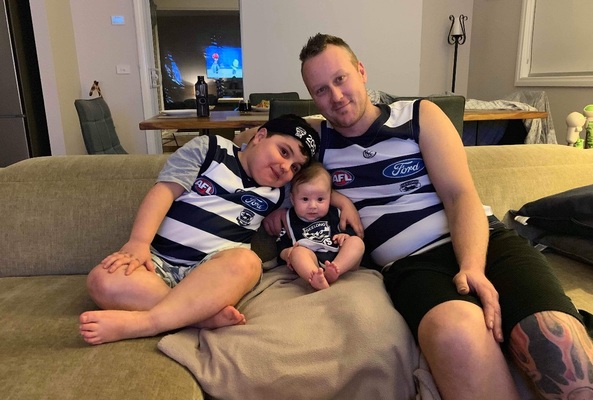 By Natalee Kerr
An avid Geelong Cats fan with a fatal genetic condition will get to live his dream when he heads out on the footy field alongside his idols next month.
Anthony, 10, suffers from Duchenne Muscular Dystrophy (DMD), a degenerative disease that causes muscle wasting, breathing difficulties and heart problems.
His cousins and brothers Jakob, 8, and Lukas, 5, also suffer from DMD, which could eventually make them quadriplegics.
But Tarneit grandmother Sue Tantaro was determined to give her three grandsons an experience to remember.
Anthony, Jakob and Lukas will join the guard of honour when Geelong take on Carlton at GMHBA Stadium on 25 August.
"Anthony is such a big Cats fan, so I knew I had to get in touch with the club," she said.
"They were immediately supportive of the idea, and they then spoke with Carlton to sort it out.
"As the other two boys are Carlton supporters we thought it would be perfect."
Anthony was diagnosed with the DMD at age five, as the trio's mothers were unaware they were carriers of the disease.
The incurable disease affects one in 3500 boys and one in 50 million girls, Sue said.
"A lot of DMD sufferers die from heart or respiratory failure in their early to mid 20s," she explained.
"These kids don't have time to wait."
Sue said Anthony is on heart medications and steroids to help his mobility and uses a wheelchair as he struggles to walk distances.
"He's deteriorating pretty badly, he can't get off the couch by himself," she said.
Anthony said it "means a lot" to join the Cats and was excited to meet his favourite players Joel Selwood, Patrick Dangerfield and Gary Ablett.