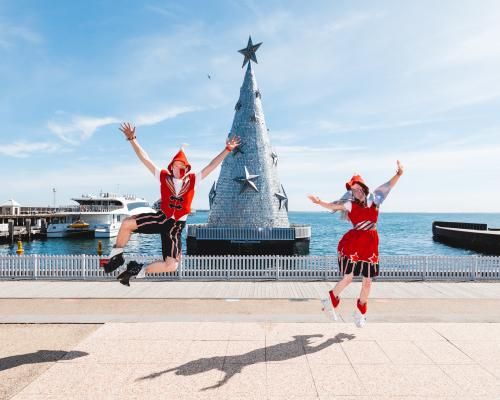 By Luke Voogt
Geelong council's Christmas festivities have launched online in a bid to keep the holiday season COVID-safe and get more locals involved.
"While we haven't been able to have the usual launch event because of COVID restrictions, there will definitely be no shortage of Christmas joy across the region," Geelong mayor Stephanie Asher said.
"Thanks to technology, and some clever and creative thinking, we've come up with plenty of fun and unique ways that greater Geelong families can enjoy the Christmas period."
The city's floating Christmas tree will be live-streamed, allowing anyone anywhere in the world to view the spectacle in real time.
Council has also announced a new 360-degree interactive map highlighting Christmas destinations across Geelong that will go live on December 1.
Each location will feature a letter that, when put together, will spell out a well-known festive greeting.
Residents who figure out the phrase can enter a draw to win a hamper of local goodies.
And the website offers a 'Christmas at Home' section, including ideas for craft, baking, sustainable gifts and a Christmas quiz.
Details: geelongaustralia.com.au/christmas