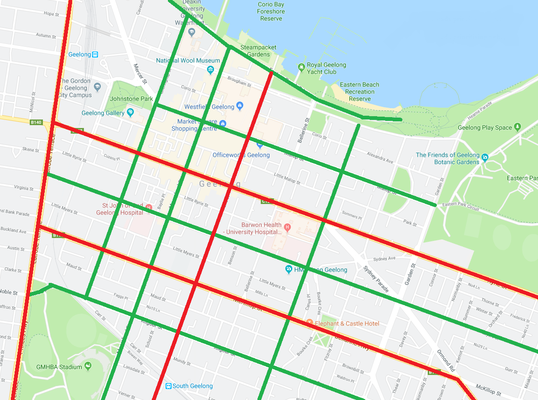 by Luke Voogt
Council plans to prioritise seven of central Geelong's busiest roads for bikes have earned praise from Victoria's peak motoring body.
RACV senior planner Stuart Outhred commended Geelong's council "for setting a long-term, strategic direction" rather than "being ad-hoc and short-sighted".
"Geelong currently lacks this network, so the RACV welcomes its inclusion in council's transport strategy."
The praise comes after the Indy last Friday revealed plans to prioritise Gheringhap, Moorabool, Swanston, Kilgour, Myers and Malop Sts and Western Beach Rd for cyclists.
The "priority" earmarks the roads for possible bike modifications without excluding other modes of transport, according to council's Transport Network Operating Plan draft.
But Mr Outhred's comments contrasted with RACV policy general manager Bryce Prosser's warning that a similar plan in Melbourne provided few alternative vehicle routes.
Mr Prosser told the Herald Sun plans to hinder car movements in Melbourne's CBD could have unintended consequences on other corridors and neighbouring suburbs.
Mr Outhred declined to say whether Geelong council's plan provided viable alternatives for motorists.
Hundreds commented on the last Friday's article on social media, with most slamming the plans or new Malop St bike lanes for causing traffic nightmares.
They also argued the plans would drive shoppers out of central Geelong for a minority of cyclists.
Ratepayers Geelong president Peter Mitchell said council intended to "disadvantage" motorists to "discourage" them driving into the CBD.
Earmarking the streets for "when there's enough cyclists" was "good" but not enough people rode to make upgrades "worthwhile yet", he said.
He feared council removing car parks for cycling infrastructure on the routes.
"Not everyone can cycle and there's simply not enough parking at the moment."
Cycling Geelong president Helen Lyth described the "relatively quiet" roads "aside from Gheringhap" as good bike routes.
But some had "very difficult" intersections needing modification, like a "nasty roundabout" on Swanston St, she said.
"I just think we need to make (Geelong) safer for vulnerable road-users."
Ms Lyth encouraged people to ride, saying more cyclists would reduce congestion and free up parking, with 12 bikes able to fit in one car park.
"It's not bicycles that kill the city. We've had bicycle lanes in the city since 1980 and it hasn't made people any more or less likely to use the CBD."
Victorian Cycling Strategy 2018-28 found that 60 per cent of Victorians were interested in cycling but deterred by safety concerns.
"Make it safe for cyclists and they will come," Ms Lyth said.
"We have thousands of cyclists around my age or older. The oldest in our club is 84 or 85 and he does a lot more cycling than I do."
Letters, page 16