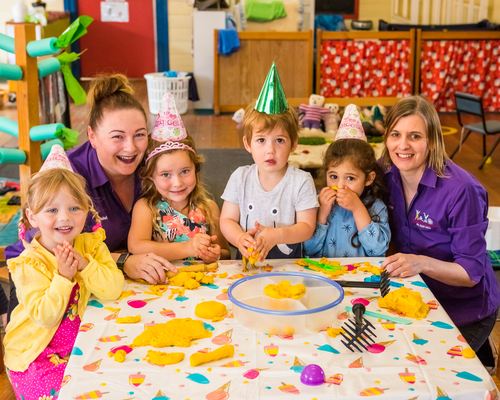 By Luke Voogt
A parent-run child-care service in Geelong will celebrate 30 years of service on Sunday.
Lara mother Kerrie Murray began working at Geelong West Occasional Care 13 years ago when her eldest son was three.
"Working with children is a really rewarding experience – watching them develop and learn," she said.
"They definitely have great little personalities. They have their own senses of humour and quirkiness. It's beautiful to watch them grow."
Kerrie completed a trial at the service after hearing it needed an extra worker.
"The hours of the job are really convenient when you have your own child," she said.
"A lot of our families come back with younger siblings."
Geelong West Occasional Care is a not-for-profit early-years education and care service with a committee of parents, whose children attend, and community members.
The registered charity offered short-term occasional care for up to 15 hours weekly, director Melissa Fisher-Jones said.
"Parents use (the service) for a variety of reasons, including casual, shift or part-time work, respite care, crisis and emergency care, study, shopping or attending appointments."
Money from fees went toward running and improving the service, Melissa said.
"We pride ourselves on the loving, nurturing environment we're able to create thanks to our team of loyal, engaged, long-serving educators."
The 30th anniversary celebration from 10am to 2pm includes an art gallery, children's activities and Dazzling Dan the Magic Man for a $10 family-entry fee.
"We'd love to share our service and celebration with you," Melissa said.