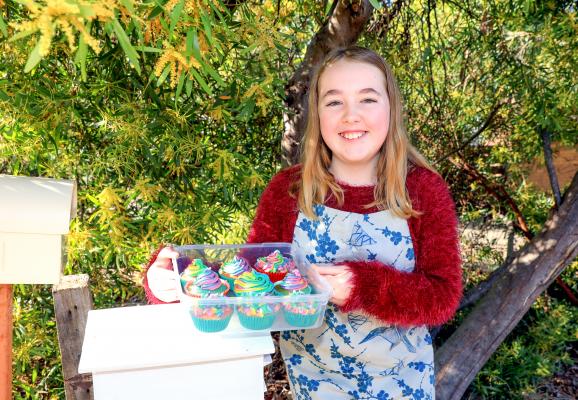 By Luke Voogt
For 10 years Torquay wildlife rescuer Jason Cichocki has been saving local native animals, mostly out of his own pocket.
But now 11-year-old Anglesea animal lover Sylvie Keogh and a Torquay pizza franchise are getting behind him.
Sylvie baked a batch of "pink and blue zebra cupcakes" and letter-dropped neighbours to raise more than $100.
"When I see people do stuff like that, I'm really happy to support it," she said.
The grade 5 student hoped to help injured kangaroos, possums, echidnas, koalas and other marsupials on the Surf Coast with her donation.
She described Jason's efforts as incredible, and he was thrilled at her contribution.
"It's really good to see that the community wants to help out," he said.
"The only way I've been doing this over the last ten years is through my mechanic business. It costs me a lot of money personally."
Jason began rescuing injured native animals in 2010 after calling Leopold Wildlife Shelter and Rescue's David Burrell to help an injured animal.
The experienced rescuer suffered an asthma attack onsite and Jason had to step in to help, he said.
"He said he'd never seen anyone so natural at it."
Jason now runs Surfcoast Wildlife Rescue, which he says is the area's only 24-hour rescue service for injured, orphaned and sick native wildlife.
And Domino's Torquay is backing Jason too, with franchisee Anil Pola donating $1 from every pizza sold between 12am and 10pm on Saturday.
"This is pretty much our first major fundraiser," Jason said.
"Anil's been great – he's definitely helped us out."
Anil said he was glad to help Jason care for the "beautiful Australian animals that inhabit the Surf Coast".
Details: search Surfcoast Wildlife Rescue on Facebook.