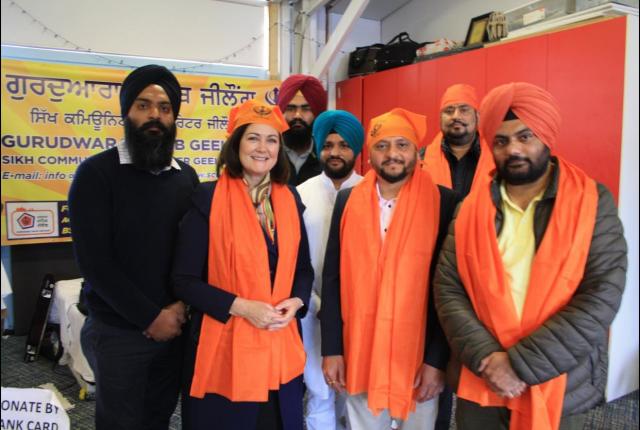 Ash Bolt
The Liberal Party has committed $500,000 to invest in security systems and other community safety infrastructure at the new Geelong Gurudwara Sikh Temple to be built in Lovely Banks if it is re-elected this weekend.
Liberal candidate for Corio Manish Patel and Victorian senator Sarah Henderson met with Sikh Community of Greater Geelong representatives on Sunday to announce the commitment.
The funding would come from the government's Safer Communities Fund, which helps schools, pre-schools, places of religious worship, community organisations and local councils to enhance their security through infrastructure and other measures such as security guards.
Ms Henderson said the government was committed to supporting community and religious organisations of all faiths to ensure people feel safe from violence, harassment or anti-social behaviour.
"This $500,000 election commitment would deliver a very significant investment in the Geelong region's Sikh community," she said.
"The Morrison Government recognises the importance of investing in safety measures including for places of worship, whether they be synagogues, mosques, temples or churches."
Mr Patel added the commitment would ensure the Geelong Gurudwara was more accessible and safer for local residents.
"This Sikh Gurudwara temple is used by Sikh and wider Indian community and contributes to the fabric of our diverse multicultural community," he said.
"Only the Morrison Government has a plan to protect places of worship and keep the community safe."
Sikh Community of Greater Geelong revealed its plan to relocated from its Hamlyn Heights temple to a new temple on Lovely Banks Road in 2020.
It received a planning permit early last year to build the temple at the site of the Hungarian St Laszlo Senior Citizens' Social Club.