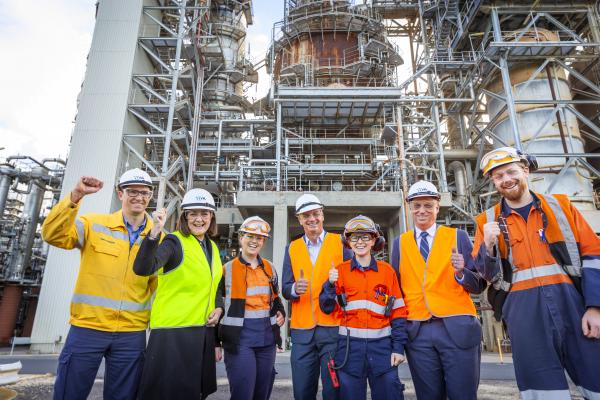 By Luke Voogt
Geelong's oil refinery – one of two still operational in Australia – will stay open until at least 2027 following a federal government deal finalised on Tuesday.
In an ASX statement Viva Australia chief executive Scott Wyatt welcomed the deal securing work for the site's more than 700 employees for six years.
"In 2019-20, our Geelong operations had a cash-loss of over $200 million, and without the support of the federal government continued operations would have not been sustainable," Mr Wyatt said.
"This could have seen the loss of over 700 direct jobs [and] the last major manufacturing operations in Geelong."
The deal includes a $125 million federal contribution to the refinery's planned $250 million upgrade to produce ultra-low sulphur gasoline and a fuel subsidy lasting until at least 2027.
The cents-per-litre Fuel Security Services Payment (FSSP) for gasoline, jet fuel and diesel from Geelong's refinery commences in July, kicking in when the refinery's profit margins fall below certain levels.
Rather than underpin or support profits, the FSSP would "mitigate some risk of low refining margin cycles, to which Australian refineries are exposed outside of their control", Mr Wyatt explained.
"Reducing this risk allows us to proceed with greater confidence, as we seek to invest in the future of the Geelong site.
"This confidence supports our vision for the Geelong Energy Hub to transition the refining site to multiple sources of energy, as we participate in the longer-term goal of energy transition to a lower-carbon economy."
Federal government brought forward part of subsidy in January 2021.
The deal in-turn requires refinery owner Viva Energy to keep the site operational until at least 2027.
The industry has faced "structural headwinds" including increased competition from Asian refinery imports and "demand destruction" from COVID-19, according to Mr Wyatt.
ExxonMobil recently announced the closure of its Altona refinery, while BP has ceased production at its Western Australia site.
This leaves Geelong's refinery and Ampol's site at Lytton in Queensland as the last two operational in Australia.
Energy and Emissions Reduction Minister Angus Taylor and Victorian senator Sarah Henderson visited the refinery on Tuesday to confirm the deal.