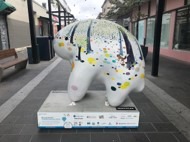 By Luke Voogt
Police are hunting vandals who damaged a $15,000 sculpture owned by The Royal Children's Hospital early yesterday morning.
Investigators alleged offenders vandalised the 'UooUoo' sculpture just off Little Malop Street about 4am.
Police released CCTV images of two males in the vicinity of the sculpture at the time of the damage.
"We feel will [they] be able to assist investigating police," a spokesperson said.
The sculptures depict UooUoos, an imaginary creature that is a cross between a dugong and a wombat.
The Royal Children's Hospital commissioned about 100 of the sculptures to be placed around Geelong and Melbourne as part of its fundraising 150th anniversary arts trail.
Yesterday morning is not the first time vandals have targeted the sculpture and others like it.
Last month at least 10 of the sculptures in Geelong, including the one at Little Malop Street, were removed for repairs.
It is not known if yesterday morning's vandalism was related to the earlier incidents.
Police urged anyone with information to phone Crime Stoppers on 1800 333 000 and quote Incident number – 210021526.