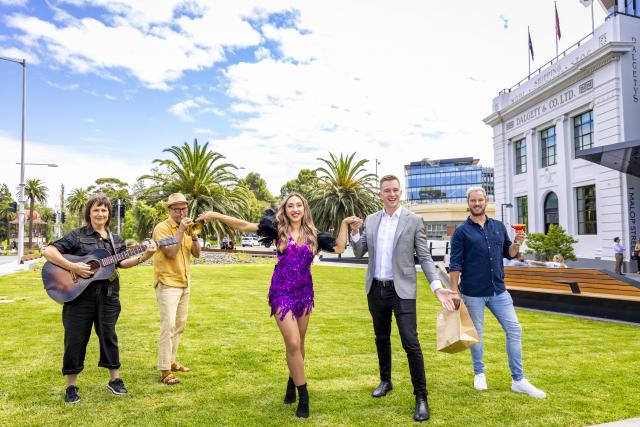 Ash Bolt
Workers, students and shoppers returning to the city can enjoy free live music and entertainment in Central Geelong's newest park on Friday nights this month.
The City of Greater Geelong kicked off its entertainment program at the new park at block one of the Green Spine on Malop Street, between Gheringhap and Moorabool streets, last week.
Deputy mayor Trent Sullivan said the live performances were designed to help people rediscover what they loved about heading into Central Geelong, while supporting local shops, restaurants, cafes and bars.
"People have missed seeing their workmates over coffee, having a chat and heading out for drinks or shopping on a Friday night," he said.
"It's time to say goodbye to your Zoom screen and tracksuit pants. Come into Geelong and enjoy the fabulous food, wine and entertainment on offer.
"Watch the sun set at a beachfront bar, enjoy the fabulous food on Little Malop Street, and feel the buzz of live music in downtown Geelong."
Arts, live entertainment and hospitality portfolio chair Eddy Kontelj said the program was also creating work for local performers while encouraging people to come back into the CBD.
"Local musicians and performers have suffered over the last two years and punters have really missed the buzz and connection you only get from seeing live music," Cr Kontelj said.
"Geelong is open for business so bring your family, friends into the city to enjoy the free entertainment on offer every Friday night in March."
The entertainment started last Friday with hula hooping and the Victoriana Gaye Trio, and will continue for the next three weeks.
On Friday, March 18, the park will host children's activities, including flower crowns and wand-making workshops, from 5-6.30pm, before Quinn EarthChild and the Roaming Woods play some alt-indie-folk music until 7.30pm.
It will continue on March 25 with Nic Dacomb's vintage circus play and some gypsy-style jazz music, before finishing on April 1 with Bubbles and Beats Bicycle Disco and Los Locos' latin music.
It's the first major use of the new Green Spine block one park, which was completed in December, providing an entry to Malop Street from Johnstone Park and the Geelong Train Station precinct.
The park includes an all-abilities landscaped triangular park, new plants and trees, wide bluestone paving, seating, and alfresco areas.