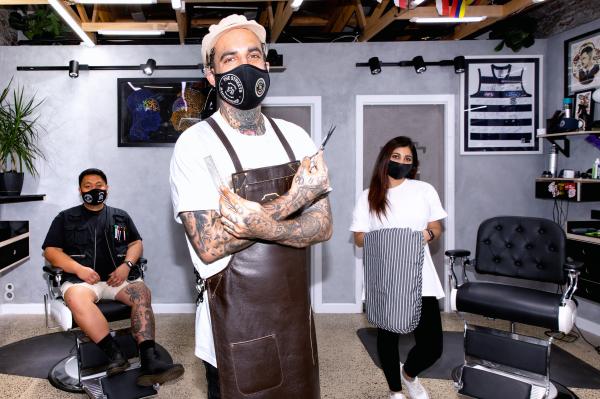 The Streets Barber Nasir Sobhani has groomed our most vulnerable for the past few years in Geelong West.
He speaks to Luke Voogt about continuing his mission to give them a new outlook on life with the hair scissors during COVID-19.
Tell us about you…
I'm 32-years-old, live in Geelong West and work at The Streets Barbershop. My hobby is basketball but serving the community and barbering are my passions. My background is ethnically Persian, and religiously I am a Baha'i. Being a religious minority, the Iranian Revolution left the Baha'i with no choice but to flee the country. My parents left Iran before the revolution and moved to the Philippines Not long after we moved to Japan where my brothers and I were born, and then we lived in Canada for 15 years. Now I'm living in this beautiful country, Australia. I've never been to Iran but I hope one day we can return.
What's your Geelong connection?
Geelong is close to the prisons and one of my goals was to do more volunteer work as The Streets Barber. I felt I was working so much in Melbourne but not serving as much as I wanted, so I made the move to regional Victoria. This allowed me to volunteer more at the prisons.
How did you become The Streets Barber?
Coming from a period of addiction, I was able to empathise with a lot of people who were suffering from similar situations and feeling low. I found that barbering was a great tool to alter that train of thought. People were able to go from zero to hero and would become a happy person after the service. This was not only from me grooming them but also the connection and the care given to them, as well as showing them love. I thought people that needed it the most are those being neglected the most out on the streets. I would cut hair for a local homeless guy right by the barbershop I was apprenticing at in Fitzroy. After realised I was making that person happy just by giving him a haircut, I asked myself, why don't I do it for other marginalised people? It helped me when I was trying to sober up to find a path that was fruitful, conducive and healthy. Whether you're being paid or not, it does something special with your spiritual side. People think I'm doing them a favour but in reality they're doing me a favour by giving me the opportunity to serve.
Tell us about your involvement with Orange Sky?
I took The Sudsy Challenge earlier this month wearing the same clothes for three days to raise money for Orange Sky. Orange Sky is a phenomenal organisation that washes clothes for marginalised people. A haircut or clean clothes can do so much for someone's emotional and mental wellbeing.
What are your favourite things to do locally?
I love to go for nice drives in the country or along the beautiful coastal waters. I love the people here in Geelong, everyone is so nice and it's not so busy like in Melbourne. It's just a beautiful space, outside the hustle and bustle of the big smoke. I also love Pakington Street and its awesome cafés. I might be a little biased but I think we have Geelong's best coffee, from Tin Man Coffee Roasters in Melbourne, at our shop.
How are you coping with COVID-19?
We're coping the way everyone else is, putting our heads down and realising there isn't anything we can do but go through this as a community. I try not to look at how hard it is for me, because I see how much harder it is for people who are in strict lockdown or have got COVID-19. People have died and lost jobs from it. Luckily, we've been able to continue to work and I still have my health. I'm trying to take the pandemic seriously; I don't joke around with wearing a mask and I do my best to socially distance. I haven't been able to go out on the streets as much because people there have compromised immunity and I never want to potentially put someone at risk.
They haven't been able to get that human interaction that they would normally due to restrictions. So I put in extra effort these days at the shop to be kind and accommodating. I'm looking forward to shaking people's hands again when its all over.
What's something people might not know about you?
I've been an on-and-off vegan for the past year but the last six months I've been strict with it. The main reason for choosing to become vegan is because the healthier I can be, the better I can be of service.
Orange Sky is calling on Geelong locals to volunteer in its free laundry service. Details: orangesky.org.au.