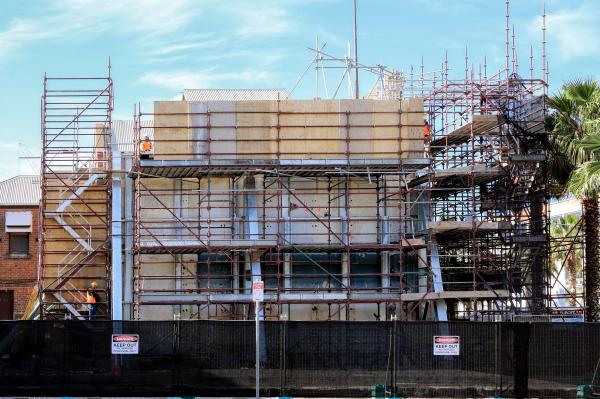 By Luke Voogt
After several months' delay workers have finally completed the demolition of iconic 1920s building Belchers Corner.
Council now plans to complete minor repairs to neighbouring buildings before returning control of the central Geelong site back to its owners' corporation.
Structural problems, the discovery of asbestos and COVID-19 restrictions delayed the demolition, initially scheduled for completion in April, council's planning director Gareth Smith explained last month.
"During the demolition process, discoveries were made in the building structure that were different to initial expectations and historical plans, and the structural integrity was worse than expected," Mr Smith said.
"This caused delays as additional safety and support measures were required and demolition plans have had to change.
"Another significant obstacle was the requirement for permanent bracing to the [neighbouring] Belchers Building southern wall and support to the parapet.
"These works required engineering design, manufacturing of bracing and installation. There were also some issues with the supply of bracing materials, which caused additional delays.
"We … reduced the number of workers onsite to ensure compliance with COVID-19 regulations have been met."
Council evicted 24 businesses from Belchers Corner in mid-2018 after the discovery of concrete cancer that had caused the building to compress by about six centimetres.
City Hall aimed to recover "100 per cent" of the cost of demolition and stabilising the building, Mr Smith said in January.
The site is located in a zone with a "maximum preferred height" of 32 metres but no mandatory height limit.
Geelong mayor Stephanie Asher in February said that demolition provided a "huge opportunity" to develop the site.
"Rather than looking at what we are losing, I'd prefer to focus on what we may gain," she said.