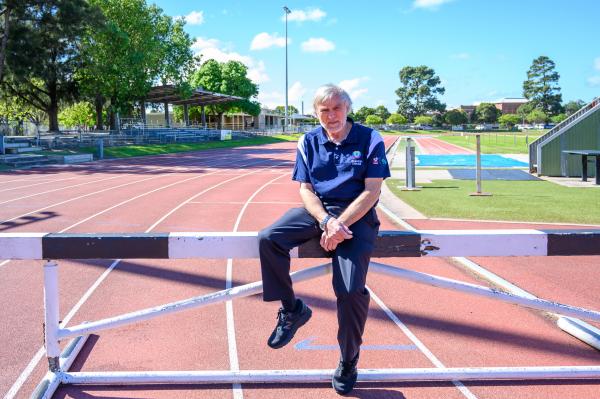 By Justin Flynn
Richard Lawysz has been a staple around the Geelong athletics scene for most of his adult life.
Whether as a competitor as a sprinter and a decathlete or as a coach or volunteer and official, the born and bred Geelong man has contributed countless hours to helping others enjoy athletics.
Lawysz was recently awarded the Victorian Sports Awards volunteer of the year.
"It was a pleasant surprise on the night," he said.
"I thought 'wow' in the context of the calibre of the other nominees and what they have done in their respective fields, to be named it was a very pleasant surprise."
A national technical official for 40 years, Lawysz has served on committees from grassroots to national level.
He is the interim president of Geelong Athletics Regional Centre where he also works as an official and coach while at Athletics Victoria, he is a member of the Victorian Officials Committee and represents Geelong on the Athletics Victoria Shield League subcommittee.
During the pandemic, Lawysz ensured the officials committee stayed connected, facilitated virtual seminars and was a co-presenter of a world-first officials education initiative set up online.
Lawysz began volunteering because he believes every organisation needs people to help out.
"There was a need for someone to step up and do something so I put my hand up and kept going," he said.
"Trying to get people involved on the admin side and official side of it is always challenging.
"The more people involved, the more there is to spread the workload."
Lawysz said the biggest challenge during the pandemic has been keeping people involved in athletics.
"The uncertainty of lockdowns and the limitation on how far you can travel within the five-kilometre limit has been a challenge," he said.
"In Victoria we have been quite fortunate that regional centres like Ballarat, Bendigo and Geelong have been open compared to Melbourne. We've been quite fortunate to have been open for training."
Lawysz said the commencement of the athletics season was still unknown.
"We would have started already in the first week of October," he said.
"When we start and how we do it, still has to be worked out.
"There have been a number of events statewide that have been cancelled due to COVID. It has an impact on our calendar for the summer."
In the meantime, Lawysz stepped away from the Geelong Athletics Regional Centre presidency in June, but vows to continue helping out.
"I'll keep on helping out as best I can in any capacity from an official and administrative point of view," he said.
"I'll stay heavily involved in educating officials and will continue officiating as well."
Justin Flynn