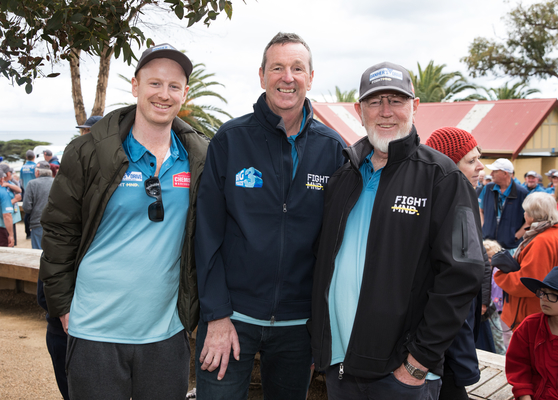 by Luke Voogt
Geoff Fary "distinctly" remembers meeting wife Monica Hayes on a training course, almost four decades before she died of motor neuron disease (MND).
"When she walked into the room she took my breath away," the Portarlington local said on Monday, after joining Daniher's Drive last week.
Geoff and his family joined former Melbourne Demons coach Neale Daniher on the fundraising drive, contributing $22,200 to the event's $3.1 million total.
Over four drives the Fara Family has raised almost $100,000, according to Geoff.
"It's a remarkable effort for a small community like Portarlington," the 69-year-old said.
"These are mums, dads and kids putting their hands in their pockets and contributing $20 or $30 here and there."
He and son Sam drove Monica's old car in the 1030km drive, which stopped in Portarlington and Geelong last Thursday.
"There's plenty of exotic cars and we're just trundling along in her old grey Subaru," he said.
Geoff met Monica in his late 20s and soon fell in love with the "intelligent", "articulate" and "stunning-looking young woman".
"We were pretty much an item from then onward. We were together 36 years," he said.
The clinical psychologist was involved in her local community as president of Bellarine Community Health, Portarlington Community Association and in other groups, Geoff said.
But in April 2015 tests confirmed she had bulbar-onset MND, which primarily affects the throat.
"She didn't tell me or any of the family that she was undergoing those tests because she didn't want to unnecessarily worry us," Geoff said.
"When I first heard the diagnosis I didn't know what Motor Neuron Disease was – it was simply three letters to me.
"But then I did some research. It was devastating for me and our entire family.
"There's not a lot you can do about it. We managed the journey as best we could and the community came on the journey with us."
Monica faced the incurable terminal disease with courage, remaining mobile and travelling to central Australia, Fiji and Southeast Asia with Geoff.
"Monica very quickly lost the ability to speak and ultimately the ability to swallow," he said.
"But the day she died was the first day she didn't get out of bed. She died (in August 2016) as she chose to, at home and surrounded by her family."
About 700 people gathered in Portarlington last Thursday, Geoff said.
"They've continued to be of enormous comfort and support since Monica died."
Over five years the drive has contributed almost $11 million to Neale Daniher's FightMND charity, which has raised about $45 million for research into the disease.
The charity has funded trials of "promising" potential treatments, according to its website.
"Neale Daniher is a man of considerable courage," Geoff said.
"Most people would retreat into their family and make the most of their time available. He's getting on the front foot and advocating for more awareness and research."