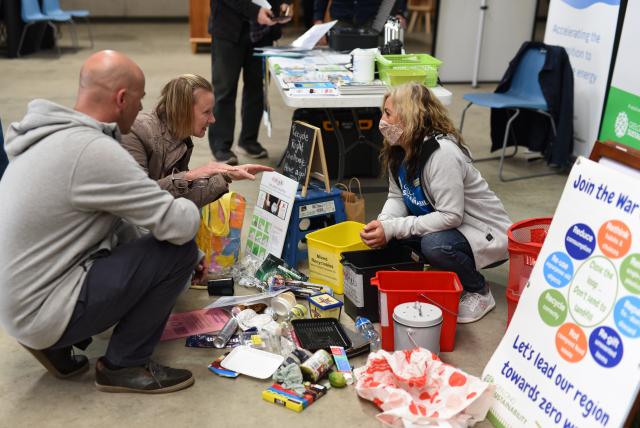 Ash Bolt
The growing popularity of electric vehicles in the face of high petrol prices was a major drawcard for the more than 1000 people who attended the Circular Living and EV Show 'n' Shine events at Geelong Showgrounds this month.
The events were organised by Geelong Sustainability and president Vicki Perrett said they showed the benefits of living sustainabily.
"With petrol prices so high, people are discovering that electric vehicles may cost more upfront, but they have significantly lower running and maintenance costs," she said.
"Powering your car from your own rooftop solar has major benefits for your household budget and the environment."
Three EVs – an MG, a Nissan Leaf and a Tesla – were available for test drives around the arena, and proved popular with more than 30 people having their first zero emissions driving experience.
The dozen local EV owners displaying their cars were kept busy sharing their experiences and answering questions.
Ms Perrett said there was also significant interest in testing e-bikes, with many convinced an e-bike would be a worthwhile purchase to lower travel costs and emissions.
Event coordinator Jess Hobbs was delighted the event was almost waste-free with many people bringing their own reusable cups.
"Tallying waste at the end, there was only one kilogram of recyclable items (mainly milk bottles) and a mere 250 grams of material that went to landfill," Ms Hobbs said.
City of Greater Geelong councillors Jim Mason and Anthony Aitken attended the show, which was supported by a City of Greater Geelong Environment Sustainability Grant.
The Council also displayed a Kangoo e-van and a ride-on e-mower from its growing electric fleet.
Ms Perrett said the show was inspired by the Geelong Circular Living Challenge that was being delivered by Geelong Sustainability in partnership with Circular Economy Victoria.
The eight-week challenge aims to introduce the Greater Geelong community to the circular economy.