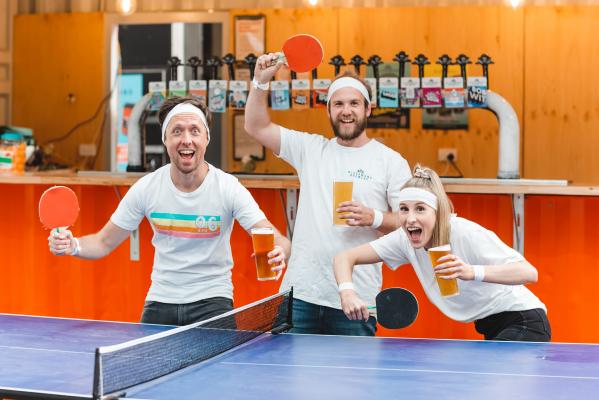 By Luke Voogt
A Grovedale brewery will serve up pints and ping pong on Sunday – as Good Beer Week kicks off across Geelong and Victoria today.
Awards are up for grabs for the fiercest local competitor with a paddle and the best-dressed in tennis whites, in one of several local events for the festival.
"It's something everyone can get around," Blackman's Brewery co-owner Renn Blackman said.
"Pretty much everyone has played ping pong at some point – it doesn't matter if they're good or bad – it's all a bit of fun.
"There'll be plenty of crew dressed up in their best whites and headbands."
Renn and wife Jess had initially planned to open their newest Grovedale brewery in late 2020.
"Then COVID came along in March, so we pulled the pin – we didn't know what was going to happen," he said.
After "breaking even" in 2020 with beer and food orders at their Torquay and Ocean Grove breweries, and JobKeeper, they were thrilled to finally open the Grovedale site this March.
"It's pretty exciting to get locals through the door for a beer," Renn said.
Good Beer Week runs until May 23 and, with more than 200 events across Victoria, Renn plans to take advantage of the first weekend "to get people down to the coast".
Blackman's also have a 'Euro Beer Trip' and a beer cocktail event planned at their Torquay and Ocean Grove breweries tomorrow.
"It's all about celebrating good beer and being around people again," Renn said.
Details: goodbeerweek.com.au