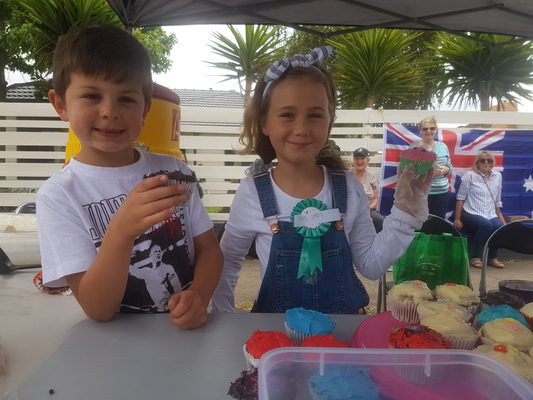 by Luke Voogt
The smell of freshly-cooked sausages wafted from a Hickey St front yard as two enthusiastic youngsters raised much-needed funds for bushfire-ravaged communities and habitats.
Eight-year-old Stella Hayes ran the busy Whittington stall on Saturday with a "BOSS LADY" badge on her t-shirt, after seeing dead kangaroos on the news.
"How long until all the animals repopulate?" mum Renee asked Stella, as she served cupcakes and strawberry lemonade to impressed locals.
"Ten years, if they keep having babies," Stella chirped.
The "emotional" Stella initially asked her dad if she could travel to affected communities and cook for victims, Renee said.
But he instead advised her to run a stall outside their Newcomb home, which raised $125.25, she said.
"Stella said, 'what if I went somewhere busier and got someone else involved?'"
So she organised a larger stall with mate Zac Winterton, 6, delivering pamphlets and baking throughout last week.
"Zac wanted to raise $100 and Stella wanted to raise $3000," Renee said.
By midday Saturday they had recruited several local kids to call out to passing motorists and pedestrians, as Stella's dad cooked snags and amused family members supervised.
Stella even cheekily "bullied" her granddad, when he handed over $20 and asked for change, Renee said.
"Stella said, 'oh no, it's for the animals, you need to buy more'," she laughed.
"He just decided he'd take an extra cupcake."
They raised $1040.20, with half going towards Ocean Grove local Jesse Copeland's efforts trucking hay and food to bushfire-stricken communities.
They planned to donate the rest directly to bushfire victims and a wildlife charity, Renee said.
Stella's and Zac's stall was one of dozens across Geelong over the weekend as local kids did their bit for those in need.