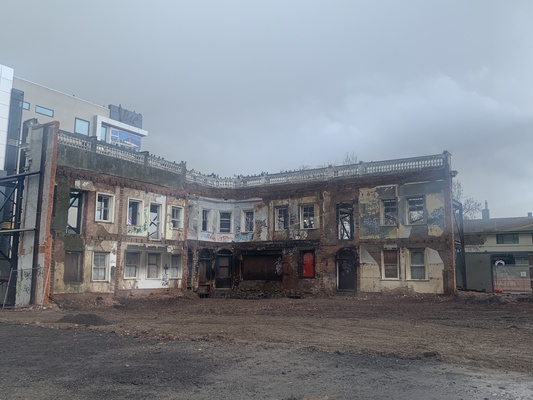 By Luke Voogt
The demolition of Geelong's long-derelict Ritz Flats has finished a few days ahead of schedule this week, according to the project's manager.
Bryce Perry said he was proud to bring down the building that had controversially sat in disrepair for nearly 40 years.
"It was very time consuming – we couldn't just go in gung-ho," the demolisher said.
"A lot of planning went into it, a lot of diagrams and liaising with engineers. It was also very tricky because there was asbestos all through the building."
The job took 10 days, a few days ahead of schedule, according to Mr Perry.
Workers at times had to use "manual separation" to demolish the 166-year-old building while leaving its structurally-propped historic facade standing, he said.
"I always said from the start if (the facade) looks like falling over we'll bring it down. It's not something you can leave hanging over a road – but it didn't move and no cracks opened up."
The facade will become part of a $30.8 million, 10-storey hotel apartment complex set for completion by the end of 2020.
The 15,000 square metre building will include 110 apartments with spacious balconies and secured parking, according to the developer behind the project.
Built in 1853, the building was originally known as Belle-Vue Hotel. It served as a hotel, coffee palace and boarding house over more than a century.
From 1984 the building deteriorated under the ownership of businessman Tim Truong, who flagged redevelopments several times over three decades.
The building became the haunt of squatters, and fires, graffiti and vandalism turned it into an eyesore that angered locals and politicians alike.
In 2006 then mayor Peter McMullin threatened compulsorily acquisition of the property and in 2013 National Trust of Australia named the building in its Demolition by Neglect report.
New owners purchased the site in 2017 and in December that year Planning Minister Richard Wynne approved the construction of the complex.
Mr Perry had received plenty of positive comments from locals about the demolition, he said.
"We got a lot of feedback online and it was (a project) I was pretty keen to (do)."
Some commenters directed criticism at former owners who allowed the building to fall into disrepair, labelling the saga a "waste of history".