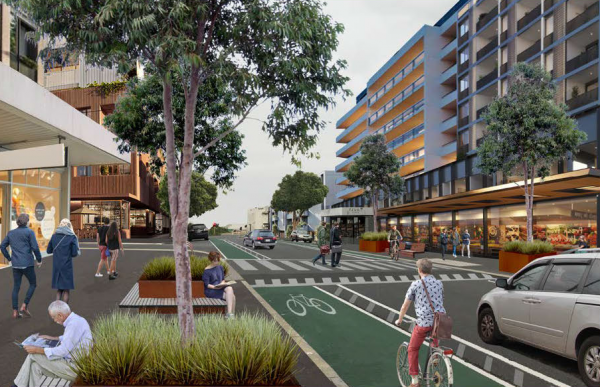 Plans proposing eight-storey buildings in parts of Pakington Street and 10-storey height limits in Gordon Avenue have opened for public feedback.
City Hall recently unveiled its interim final Pakington Street and Gordon Avenue Urban Design Framework, which aims to realise the area's "development potential".
The report identifies the rail sidings yard and Pakington Strand as potential sites for eight-storey buildings due to "minimal impact on neighbouring properties".
For Gordon Avenue the report proposes buildings up to 10 storeys in height at the intersection with Latrobe Terrace.
This proposal takes into account the scale of planned development on the east side of Latrobe Terrace in the railway precinct of the Central Geelong Framework, according to the report.
The report also features plans for new cycling and pedestrian infrastructure, "pocket parks" and reduced speed limits of 30 kilometres per hour in Pakington Street.
"The heritage core precinct will continue to play an important role as a premier shopping strip and community hub in a backdrop of heritage buildings," the report states.
The plans are "based around a safe, leafy and people-friendly environment where locals and visitors of all ages and abilities can meet, shop, rest, eat and play", according to the report.
The report details "enhancing and celebrating" the area's "unique built form and cultural heritage through a high quality public realm that connects people with nature and offers opportunities for life to spill out onto the street".
During a 24-week consultation on the plans last year council received 77 submissions, which raised concerns about building heights, a loss of character and the impacts of increased population.
The latest plans are available for comment at yoursay.geelongaustralia.com.au/mypako until September 17.
Following that consultation period, City Hall will prepare a final urban design framework for council's consideration.
Luke Voogt