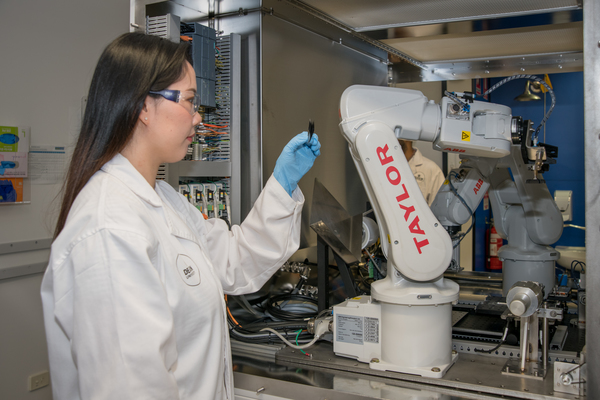 "Australia-first" research by Waurn Ponds scientists could develop new materials to reduce the cost and environmental impact of high-performance batteries.
Deakin University researchers were testing a readily-available compound compared to standard ingredients that were more costly and difficult to obtain, according to team leader Maria Forsyth.
"There is a global search for safe, low-cost, high-capacity, high-performing batteries given the demand for high-performance energy storage and electric vehicles," Professor Forsyth said.
"The challenge for Australia is to develop a sustainable battery manufacturing industry that has global reach through process innovation."
The research aimed at developing Australia's manufacturing capability, said Prof Forsyth, who is deputy director of Deakin's Institute for Frontier Materials.
The three-year project received $3 million from a Commonwealth program supporting industry-led collaborations in new technologies, products and services.
The researchers will use technology company Calix's flash-calcination process at its Bacchus Marsh facility to create materials for battery components.
The process involves grinding minerals to about a thousandth of a mm in size before "flash" heating them at up to 800 degrees Celsius, according to the company's website.
"As trapped gases in the mineral bubble out of the particles, we snap freeze them in a very high energy state, leaving a very porous, honeycomb-like structure," the website states.
The researchers will then integrate the materials with other components from Melbourne manufacturer Boron Molecular to make up to 10kW battery pack prototypes at Deakin's Bat-TRI-Hub at Waurn Ponds.
Team researcher Patrick Howlett described this type of research as an Australian first.
"We will be using high-rate processing technology with Australian materials," Prof Howlett said.
"These materials will also have capacity to go into high performance supercapacitors which store charge like a battery and can dispense that charge very quickly."
The project will involve a "field trial" of the battery packs, including in small solar systems and the Deakin Microgrid, currently under development at the university's Waurn Ponds campus.
The project would develop "a roadmap" for "commercialisation pathways", according to Deakin University.