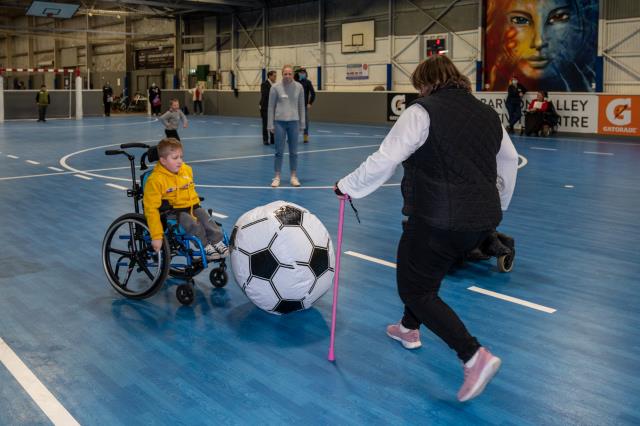 Ash Bolt
People living with disability and their families will having the opportunity to connect with accessible sports in the region at an inclusive community sports day on Monday.
The event, run by Solve Disability Solutions, will give people with disabilities the opportunity to try a range of sports, including archery, wheelchair rugby and badminton, pickleball and lawn bowls, and connect with local sport clubs.
Solve Disability Solutions recreation development co-ordinator Tim Marchinton said the aim of the day was to get people connected with their community.
"Being active is a positive whether you live with a disability or not … both physically but also mentally," he said.
"Being involved in sport is about making connections and friends, and feeling more connected to society.
"It's like a slice a of the happiness pizza, it is important to feel like you're part of something … and that's why we run these days.
"We'll have different sports clubs there to show what accessible and inclusive sports there are in the region – they're all sports that are specifically catered to people with disability."
Mr Marchinton said the event, which had been held in the region previously, had been successful and he was hoping to see that continue.
"We've done this before and the response was fantastic," he said.
"This year we've got a new sport, pickleball, there and we'd like to shine a light on that.
"It's very similar to tennis and badminton and it's great for people with disability.
"It's a relatively new sport and we're hopeful that some people will try it and hopefully we'll see the formation of a club in Geelong.
"We'll also have some of the other popular sports back – archery is one that is always a hit."
The benefits of the program were recognised recently at the Victorian Disability Sport and Recreation Awards, where Mr Marchinton was named administrator of the year.
He said the day was completely free and all equipment needed would be provided.
"It's the perfect solution for families with kids that are a little bored over the holidays," he said.
The inclusive sports day will be held at the Barwon Valley Activity Centre from noon-3pm on Monday.
To register: bit.ly/3DyMrOI.