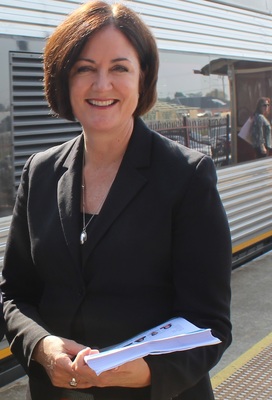 Corangamite MP Sarah Henderson "back flipped" on her opposition to live-animal exports when she voted against her own bill to end the trade, according to Labor.
Ms Henderson seconded Liberal colleague Sussan Ley's private members bill on 21 May but turned against it in federal parliament on Monday, said shadow agriculture minister Joel Fitzgibbon.
"Give the vote was 72-70, their votes were the difference," Mr Fitzgibbon said.
"Many Australians will be disappointed by their actions."
Earlier this year Ms Henderson described live sheep exports as "inhumane", saying the "vast majority" of her constituency supported her opposition to the trade.
"If any person in Australia crammed sheep into a transport vehicle for 25 days in the searing heat with limited access to food and water, standing in their own excrement, that person would be charged with animal cruelty," she was quoted as saying in May.
Ms Henderson told parliament when seconding the bill that her electorate was saying "enough is enough".
"The time has come. Backed by the science, the facts and the economics, this is a trade which must come to an end," she said.
But on Monday Ms Henderson and Ms Ley, who had threatened to cross the floor of parliament over the issue, voted to prevent debate on the bill after the Greens and cross-benchers sponsored its passage through the senate.
Mr Fitzgibbon linked the pair's about-face to their recent promotions under new Prime Minister Scott Morrison.
Both took "their 30 pieces of silver" when they voted with their party against the bill, he said
"The only thing that has changed since they introduced (the bill) is their promotion to a junior ministry. It's obvious their passionate speeches in support of their own bill were full of hollow and insincere words."
The pair would have had to quit their new roles to cross the floor of parliament.
Ms Henderson and Ms Ley released a joint statement on Tuesday confirming their promotions prevented them supporting the bill.
"As members of the ministry, it is no longer open to us to support any private member's bill or the bill passed by the senate today," they said.
"Combined with the advocacy from so many thousands of Australians, we are pleased that our strong stand so far and the Minister for Agriculture's determination to hold the regulator to account (have) resulted in the shutting down of the industry's biggest offender.
"The impending release of the Moss Review provides the government with a further opportunity to impose tough new rules relating to live exports.
Our personal conviction on this issue remains and we will continue to advocate for a change in coalition policy and for a phase out of this awful trade."