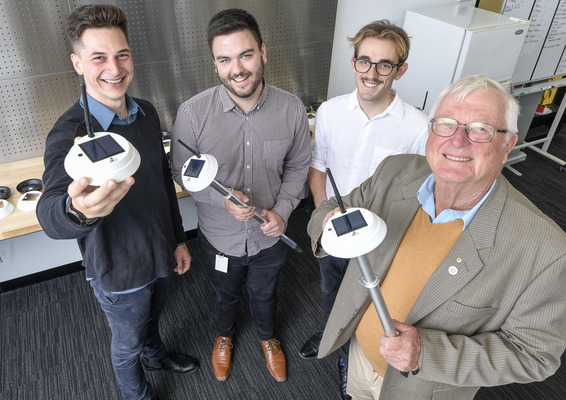 by Luke Voogt
Four Geelong-based engineers have developed a device that could revolutionise how local farmers get the best from their land.
"They're the experts and they've been working in these industries for decades," said Ryan Veale, one member of the engineering quartet.
"This is just another tool to help them use their resources more efficiently."
The provisionally-named 'precision agriculture device' measured soil moisture and temperature, air temperature, humidity and light penetration through crop canopies, Ryan explained.
"Essentially, it's all about making life easier for farmers when they're making decisions, and putting data behind those decisions," the 22-year-old said.
The real-time data can then help farmers reduce water usage, choose when to plant or harvest crops and monitor plant health.
Ryan said the device was easy to use, which set it apart from similar products with more "complicated setups".
"The devices themselves are activated with a single push of a button."
Once in the ground the device would last for years meaning farmers could "set and forget" it, he added.
Ryan, who lives in East Geelong but hails from Ballarat, and three other engineers met while studying at Deakin University.
Together they founded a start-up, Seamless Technology Ready to Use and Transform (STRUT).
Two of the co-founders, Richard Athey and Rhys Bischof, grew up on the land, which, along with climate change concerns, inspired the device.
"Technology like this is going to allow us to remain profitable and sustainable," Ryan said.
"We have to be really conscious of the resources we're using and the impact we're having."
The group received a joint Geelong council and Victorian Government grant for the device, which has funded field-testing at a local olive farm and vineyard.