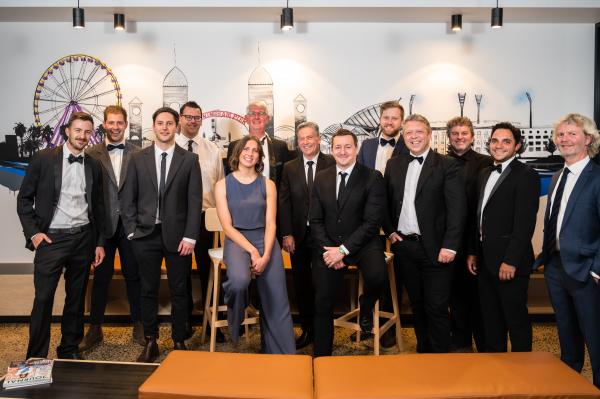 Elle Cecil
Plan Group Geelong (PGG) began in 2017 when directors of the Melbourne branch envisioned Geelong as an emerging and growing market. Evidently, this was an excellent decision, and PGG has now been nominated for the Geelong Business Excellence Awards (GBEA) for the second year in a row.
Providing construction management services to the region, specialising in healthcare, aged care, education, hospitality, retail, government, community and commercial industry sectors, PGG's impressive client list includes the likes of Barwon Health, City of Greater Geelong, Japara Aged Care, St Joseph's College and Geelong Grammar.
From fit outs to refurbishments, extensions and new builds, PGG's main focus is to establish relationships and deliver works with minimal interruption to clients' operations. PGG prides itself on understanding what's important to clients so that projects can be carefully customised with a focus on delivering upon expectations.
"From my perspective, what sets us apart from our competition is our people," explains Jarod Mason, PGG's General Manager.
"The point of difference here is we are experienced in listening to our clients and understand what's important so we can customise a project delivery methodology focused on delivering to their expectations."
Having grown to a team of 26 staff members in less than four years, PGG's office is located in the heart of Geelong. With a selective interview and employment process, the staff at PGG are a carefully curated collection of individuals suited to both the work and the environment.
"We look for staff with a great attitude and good cultural fit," says Jarod.
PGG has had a strong presence in the community since its inception, sponsoring local sporting clubs and health care initiatives.
"We also look at ways to brighten people's days," says Jarod.
One such example of this is PGG's introduction of a 'Where's Wally' game for the families to play whilst the company completes work at a new local children's rehabilitation centre.
"The kids love looking for Wally, from outside the building zone of course!"
Jarod and the team are extremely excited to again be nominated for the Geelong Business Excellence Awards.
"Even if we don't win an award, I consider our team as winners already. It was a great team effort to put our submission together."
Plan Group Geelong is located at L2/73 Malop Street, Geelong. For more information, phone (03) 4246 0360 or visit www.plangroup.com.au.
To find out if Plan Group Geelong will be a winner of the Geelong Business Excellence Awards, watch the free virtual event via Channel 31 or www.gbea.com.au on 19 October at 7pm.
Thanks to this year's major sponsors LBW Business + Wealth Advisors and Deakin University, the 2021 Geelong Business Excellence Awards celebrate clever, creative and resilient businesses and business leaders.