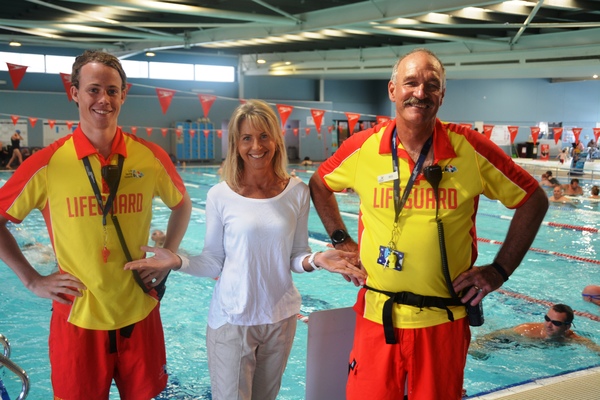 by Justin Flynn
City of Greater Geelong launched its water safety campaign in Ocean Grove last week.
The City has embraced a number of recommendations from Life Saving Victoria, including more training for lifeguards, new uniforms and identification wristbands for young swimmers.
It comes after more than two million people accessed swim sport and leisure centres in the 2018-19 financial year.
Of the 190 lifeguards working across the City's aquatic centres, 40 are based at Bellarine Aquatic and Sports Centre in Ocean Grove.
At Ocean Grove in particular, there is a strong connection with nearby surf lifesaving clubs.
Senior lifeguard Bill Strachan is associated with Ocean Grove Surf Life Saving Club while Ned Combridge is with Bancoora Surf Life Saving Club.
"The City has invested in more ways to keep swimmers safe this summer," mayor Stephanie Asher said.
"Our lifeguards are more visible and more prepared than ever, which is extremely important as more people enjoy our facilities.
"Of course, everyone still needs to play their role around water. This means supervising young ones and respecting your own swimming ability."
This season there are more than 190 lifeguards working across our six community pools, including Leisurelink, which was proudly awarded a Royal Life Saving Australia national aquatic safety award in 2018.
Visitors might have noticed the new streamlined approach to lifeguard apparel.
Easily recognisable red and yellow uniforms, like those worn by lifesavers at Australian beaches, are being rolled out at local facilities.
Lifeguards are also completing more compulsory testing, including four in-house training sessions and qualification updates each year.
To help with increased supervision efforts, the City has adopted the Watch Around Water program.
The educational initiative, developed by Aquatics & Recreation Victoria and Life Saving Victoria, encourages parents and guardians to keep a closer eye on their children.
Drowning is the leading cause of unintentional death in children under five years of age and almost half of all injuries recorded at public swimming pools involve children.
The Watch Around Water guidelines requires parents or guardians to remain within arm's reach of children under five.
Children aged between five and nine must wear a yellow wristband issued from reception staff.
For more information about the City's swim sport and leisure facilities, including summer opening hours, visit geelongaustralia.com.au/ssl.