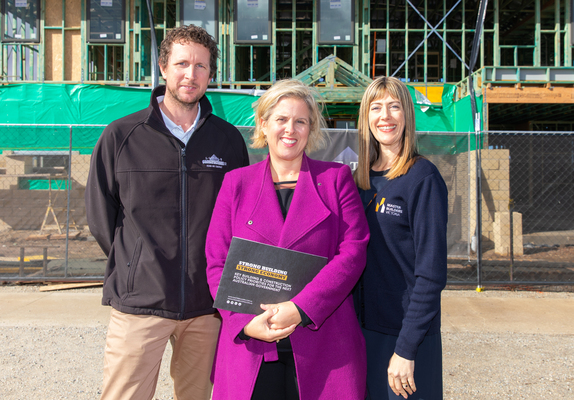 By Luke Voogt
An ad "blitz" attacking Labor's negative gearing policy kicked off in Lara on Wednesday, with Master Builders warning the changes could damage Geelong's building industry.
The policy, along with doubling capital gains tax, would undermine 4400 small building businesses in Corangamite and Corio, according to Master Builders Australia.
The organisation's chief executive officer Denita Wawn said the plans would impact many property investors within the two electorates.
"In Corangamite there are nearly 13,500 and in Corio there are nearly 10,000 families building their wealth with negatively-geared property investments."
Ms Wawn also took aim at Labor's plans to abolish Australian Building and Construction Commission (ABCC), saying it would lead to 30 per cent cost increases for taxpayer-funded infrastructure.
Master Builders Victoria chief executive officer Rebecca Casson said the policies could lead to job losses.
Ms Casson described Geelong as a "poster child" for large scale construction activity with one of the fastest rates of dwelling approvals for 2018.
"If the rules on negative gearing and capital gains tax are changed, we risk weakening Geelong's housing market," the former Committee for Geelong chief said.
But Labor's plans to limit negative gearing from 1 January, 2020, would affect no investments prior to that day, Labor Corangamite candidate Libby Coker said.
"The Government spends well over $11 billion a year on negative gearing and capital gains tax concessions, money that could be better spent on our local schools and hospitals.
"Many people are choosing to make a sea-change to Corangamite but in this local competitive housing market we have seen first home buyers struggling to get a bid in at auctions.
"Labor's plan will help to boost housing supply and jobs, whilst support our 10‐year plan to back the construction of 250,000 new affordable homes".
Corio Labor MP Richard Marles said his party would abolish the "draconian" ABCC, which "strips construction workers of common law rights".
"When it comes to attacking unions, Morrison and his Liberals jump at the opportunity, but remain silent when it comes to serious allegations of sham contracting, underpayment of wages and safety at work, in what is one of the most dangerous industries.
"If Labor is elected, when there are breaches of the law there will be consequences.
"But unlike the Liberals, we will seek to bring greater cooperation, not just into the building industry, but all sectors of the economy."