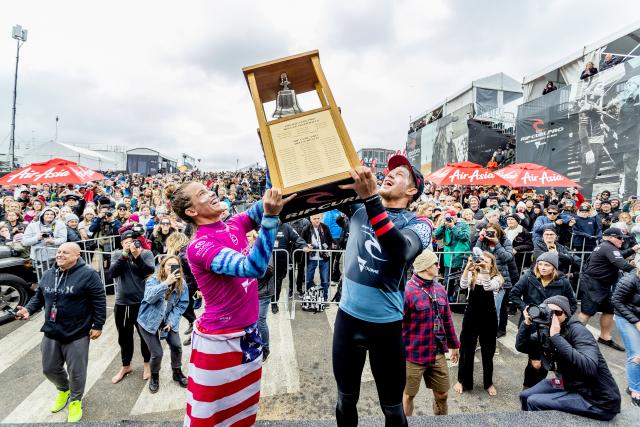 Ash Bolt
It's been close to three years since the world's best surfers descended on Bells and excitement levels are high for the return of the Rip Curl Pro Bells Beach.
The event action kicks off on Sunday, April 10 and runs until April 10.
Surf Coast Shire Council will hold a Traditional Welcome to Country event at 9.30am on Friday, April 8.
The event will be followed by the presentation of Council's Gail Couper and Wayne Lynch Rising Star Awards, which celebrate young, local up-and-coming surfers.
To help people get around, there will be free shuttle buses over the Easter long weekend running every hour, which will take passengers to and from the event and sites around Torquay and Jan Juc.
Surf Coast Shire mayor Libby Stapleton said there was a real buzz around the coast in the lead up to the Rip Curl Pro.
"It's been a long three years between Rip Curl Pros, and everyone is pumped for its return. This year's event is going to be pretty special," she said.
"Bells Beach is the spiritual home of surfing in Australia, so we're pleased that this much-loved WSL event is back in its rightful home.
"COVID certainly wreaked havoc on major events, so after two missed Rip Curl Pros, excitement levels are at an all-time high and we're expecting to see big numbers this year.
"Our local businesses are getting ready for a busy couple of weeks, and many will be livestreaming the event, so you can go out for a bite to eat or a drink with friends and not miss the event action."
During the event period, entry into Bells Beach Reserve will be restricted to event attendees from 7am to 5pm daily.
The Rip Curl Pro coincides with a special exhibition at the Australian National Surfing Museum called 'Simon's Bells'. Featuring champion surfer Simon Anderson, the exhibition tells the story of a remarkable day in surfing, big waves at Bells Beach and a borrowed board that would change the surfing world forever.