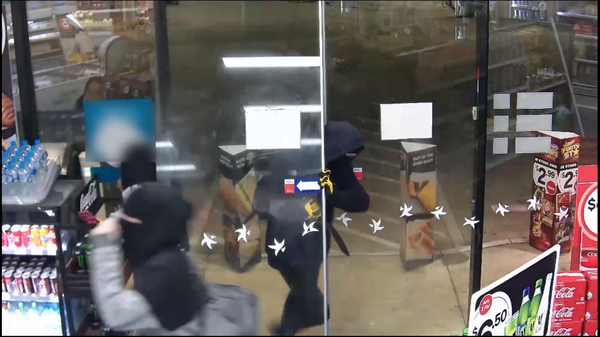 A man and a teen who allegedly held up a Bannockburn service station last Friday face multiple charges, as police hunt a third offender.
Three males stole cash and cigarettes during the armed robbery at the Midland Highway service station just after 1am, police alleged.
Police on Friday released CCTV footage of the incident showing the three breaking into the service station with one carrying a machete or knife.
Moorabool Crime Investigation Unit detectives arrested an 18-year-old man and a 15-year-old boy in Bannockburn last Friday.
Detectives charged the man with two counts of armed robbery and one count of burglary.
He was remanded in custody and is due to appear in Geelong Magistrates' Court on Tuesday.
Detectives also charged the boy with two counts of armed robbery.
He was released on bail and is due to appear at a children's court at a later date.
Detectives were still searching for a third man and continuing their investigation, a police spokesperson said.