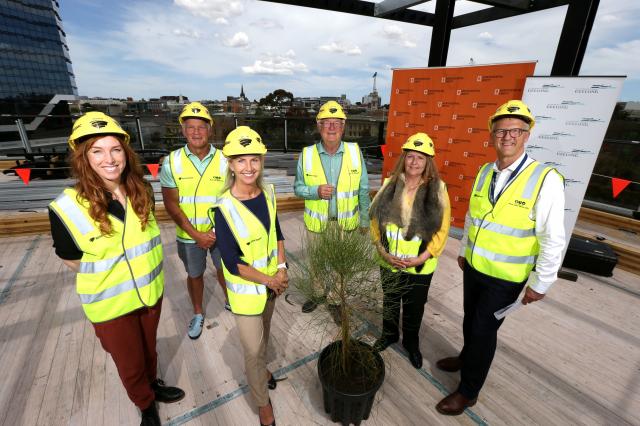 Ash Bolt
Geelong's new civic precinct Wurriki Nyal has reached its highest point, with the topping out of the City's new home celebrated with a small ceremony this week.
Topping out ceremonies are a construction industry tradition that celebrate a building safely reaching its highest floor, which Wurriki Nyal did this week with the installation of the steel roof structure fabricated by Norlane's A+ Steel Fabrication.
Project developer Quintessential Equity executive chairman Shane Quinn said it was great to see the project reach a key milestone despite the hurdles of the pandemic.
"This is truly an exciting time for Geelong, and it's great to see the new Wurriki Nyal civic precinct reach this milestone," he said.
"The topping out is always a rewarding moment to acknowledge all of the hard work that goes into making these projects a reality.
"We look forward to continuing this momentum and strong partnership with the City of Greater Geelong and the construction team ahead of completion in the new year."
Construction on Wurriki Nyal has invested over $29 million in the G21 region to date and inducted 255 local workers on site so far.
Wurriki Nyal will bring together new centralised offices, services for the community and 2550 square metres of new public space that is expected to save ratepayers $2 million per year in rental and energy costs once complete in mid-2022.
Mayor Stephanie Asher said she was proud to see the project continuing to deliver for Greater Geelong in a tough time.
"When we embarked on the project to build a new civic precinct for Geelong back in 2019, we never could have imagined how challenging the next two years would be for our community," she said.
"I'm incredibly proud of Wurriki Nyal's support for the local economy, and grateful for the backing we have had from Wadawurrung Traditional Owners and every local worker and business that has played a part in creating this new precinct for our community."
Traditional Owners welcomed attendees to the ceremony on Country this week, to talk about the importance of culture in the building's design.
Wurriki Nyal means "speak and talk together" in Wadawurrung language, and the project consulted extensively with Traditional Owners on key elements including landscaping and interior art design, Aboriginal employment targets, and a traditional yarning circle at the centrepiece of the precinct's public space named Gayoopanyoon Goopma, meaning 'gather'.
The second building in the precinct owned by Quintessential Equity is anticipated to begin construction in late 2022.