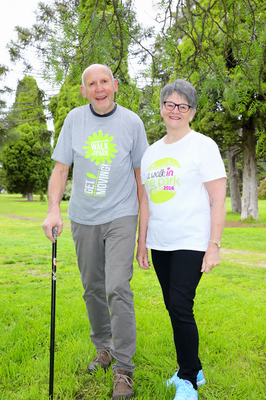 A Geelong walk that raised more than $15,000 for Parkinson's disease last year is set to return next month.
Waurn Ponds pensioner Graeme Hemley has battled the disease for 17 years and participated in the event last year.
His daughter, Kirsten, organised to bring A Walk in the Park to Geelong after partaking in a similar walks in Melbourne for several years.
Graeme's wife and carer Kaye said family was "blown away" by the support for the inaugural local event last year.
"It was way above our expectations," Kaye said.
"We were hoping to maybe get a couple of hundred people and raise a couple of thousand dollars.
"But more than 550 people registered, raising about $16,000 for Parkinson's Victoria."
Money raised from this year's event will again go to toward the non-for-profit organisation's services and research.
Kaye said she was "shocked" to learn "so many" people live with Parkinson's across Geelong, Bellarine and Surf Coast.
"It was quite eye-opening to discover the depth of the disease within our region," she said.
"Graeme's had Parkinson's for a while, but we were completely ignorant to the amount of people who have the disease in the area."
Kaye said her husband is now on a medication pump to help his condition, as his mobility significantly deteriorated in the last 18 months.
"It's getting a lot harder, there are a lot more symptoms now. It's very frustrating for him," she said.
But Graeme was eager to partake in the 2km walk at Eastern Park on 8 September despite potentially having to do so in a wheelchair, Kaye said.
"He did it last year and I think he went around the circuit three times!," she laughs.
"He's determined in the next month to get well enough walk it, but regardless whether in a wheelchair or not he'll be doing it."
Kaye said the walk was important to raise community awareness for the "mystery disease".
"People tend to think it's just when you get the shakes, bit it's a lot deeper than that," she said.
"It's such a varied disease; no two people seem to have the same problems."
To register for the walk visit www.parkinsonswalkgeelong.com.au.