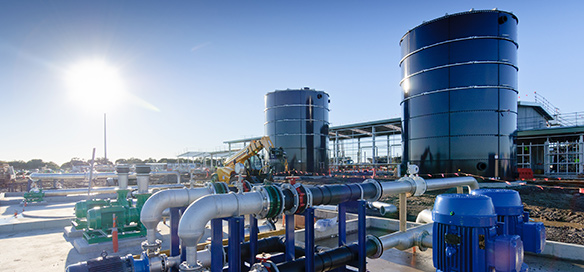 By Luke Voogt
A $42 million recycled-water plant is yet to produce a drop for Torquay and Armstrong Creek homes five years after opening.
Barwon Water's Kate Sullivan admitted the plant would miss last year's deadline to supply recycled water to homes this summer.
"We expect there will be sufficient demand to switch the supply on by summer 2019," the authority's general manager strategy systems and environment said.
"There are currently 4900 homes in these growth areas, which is not enough demand to run our plant efficiently.
"We are still planning to provide customers in Armstrong Creek and Torquay north with high quality and affordable Class A recycled water through their purple pipes."
But in August 2017 Barwon Water's then-general manager of infrastructure services, Paul Northey, made a similar prediction for this summer.
Providing Class A water to Armstrong Creek and northern Torquay would not be cost efficient until the two growth areas reached 5800 homes, Mr Northey said
"This is expected to be reached in time for next summer," he said at time.
Barwon Water built the $42 million plant at Black Rock in 2013 to provide Class A water for residents in Armstrong Creek and northern Torquay.
Under the relevant planning schemes for Armstrong Creek and northern Torquay, new-homebuilders must pay an extra $1215.54 to install purple pipes for Class A water.
Barwon Water was currently supplying drinking water to their purple taps at the discounted recycled water rate of $1.34 per thousand litres, Ms Sullivan said.
The authority normally charges homes $1.92 per kilolitre for drinking water, according to its website.
The Black Rock facility was supplying lower grade Class C recycled water to local farms, golf courses and horticultural customers for irrigation, Ms Sullivan said.
The cost of producing Class A was higher than drinking water, Mr Northey told the Indy last year.
"Purple pipe schemes will ensure communities such as Armstrong Creek and Torquay north are well-placed to respond to times of dry conditions when drinking water may be scarce," he added.
The region's supplies continued to decline this week with water storage levels at 57.7 per cent yesterday, down on 73 per cent the same time last year.
Local water supplies were secure "well into the future" as Geelong's population grew, Barwon Water managing director Tracey Slatter told the Indy last month.