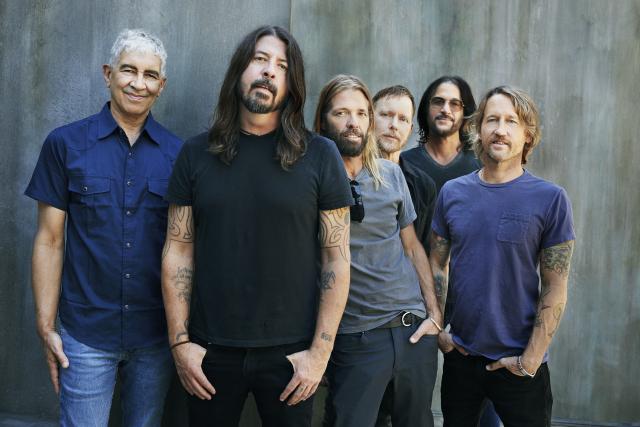 Data from Spendmapp has revealed that spending on dining and entertainment in Geelong increased by 26 per cent on the day that the Foo Fighters performed at GMHBA Stadium.
The data shows that spending increased by $1.3 million on Friday March 4 compared to the previous Friday. Travel related spending increased by 10 per cent.
Deputy Mayor Trent Sullivan said the return of stadium rock to Victoria after two years of COVID-19 lockdowns provided a historic boost for Geelong's night-time economy, which refers to activities that take place between 6pm and 6am.
"Geelong and South Geelong recorded the highest night-time spending we've seen since our records began in 2018," he said.
"The Foo Fighters gig surpassed the spending we would typically expect to see in the days leading up to Christmas."
Spendmapp data showed most of the spending was driven by fans travelling to Geelong, with visitor spending in the suburbs of Geelong and South Geelong increasing by 75 per cent ($1 million) on the day of the concert.
"Hosting one of the world's biggest rock bands before 30,000 fans was a night to remember, and a sign that Geelong is going through a real renaissance," Cr Sullivan said.
"The brand benefits for Geelong were enormous, with packed restaurants on Pako and Little Malop Street and hotels and Airbnbs booked out across the region.
"It wasn't just travellers from Melbourne, the city was buzzing with Foo Fighters fans from across Victoria and Australia."
The Foo Fighters were brought to Geelong through the Victorian government's Always Live program, which is the biggest program of its kind in the southern hemisphere.
Arts, Live Entertainment and Hospitality Chair Councillor Eddy Kontelj said the return of White Night Geelong in October will kick-off a bumper month of major events, including the T20 Men's Cricket World Cup and the return of local family favourites the Royal Geelong Show and the Geelong Cup.
"Every major event we can bring to Geelong increases spending at our entertainment and hospitality venues," Cr Kontelj said.
"The previous White Night attracted more than 70,000 people so we're hoping that the spectacular display provides a boost for our restaurants, cafes and bars."
White Night will be held on Saturday, 8 October 2022, while the T20 Men's Cricket World Cup will bring thousands of visitors to Greater Geelong for a celebration of cricket, culture and community from 16 October 2022.