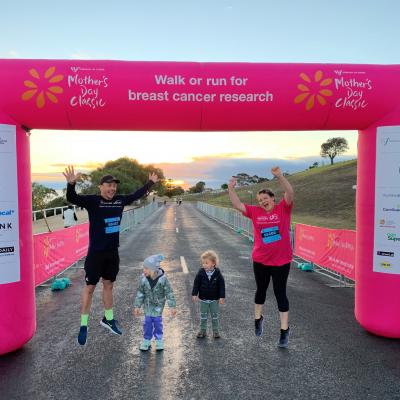 By Luke Voogt
Breast cancer survivor Marketta Macdonald is hardly the type to let a "crazy" fortnight stop her from running in the Geelong Mother's Day Classic.
On Tuesday the Armstrong Creek mother had to take her five-year-old son, who had a lung removed at six-weeks-old due to a rare lung condition, to hospital.
The week before, her husband had his appendix removed and her mother fractured her foot while walking their dog, after travelling to Geelong to help them out.
"It's been crazy," Marketta said.
"I've had to juggle my priorities."
Her son is now recovering, after a bout of croup, and Marketta plans to don pink, either at the Geelong Mother's Day Classic itself or remotely on a five kilometre walk.
"I still anticipate chucking on my t-shirt, wherever I am, and doing it – with family if possible," she said.
Marketta was diagnosed in January 2018. Surgeons removed two tumours, which had spread to her lymph nodes, and performed a hysterectomy and double mastectomy.
She also had chemotherapy.
"It's major surgery, long hardcore treatment and I'm still on medication to try and keep the hormones at bay," she said.
"My children were two and five at the time.
"I went to my daughter's first school assembly, and then I was diagnosed. But my school community were incredible and supportive in helping me."
Marketta hopes to raise money for cancer research through the event.
"Research and survival rates have come so far but people are still dying," she said.
"We need to keep the research going. There are too many who don't have a good ending."
Details: mothersdayclassic.com.au/vic-geelong