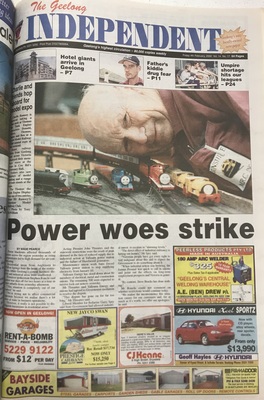 20 years ago
February 4, 2000
Power blackouts affected thousands of homes across the region yesterday as rising temperatures led to a high demand for air-conditioning.
Residential areas from Anglesea to Clifton Springs bore the brunt of the restrictions, while Geelong's central business district and industrial areas were unaffected.
15 years ago
February 4, 2005
Run-off from 36 hours of rain would keep the region awash until at least the weekend, the Bureau of Meteorology warned yesterday.
The bureau said the Barwon River would reach moderate flood levels tonight after minor flooding late yesterday.
10 years ago
February 5, 2010
Governments will have to tip in more than $800 million over the next 15 years to help build new suburbs on Geelong's southern fringe, according to official estimates.
Council planning documents and a study of estimated costs for public infrastructure have revealed schools are the biggest infrastructure bill for the Armstrong Creek growth area.
5 years ago
February 6, 2015
A Cats push for City Hall to stump up $6 million toward the next Simonds Stadium upgrade has been greeted with public dismay.
With crowds around three-quarters capacity at best after more than $100 million has been spent on the ground and with another $140 million to go, ratepayers are questioning the value of the investment.