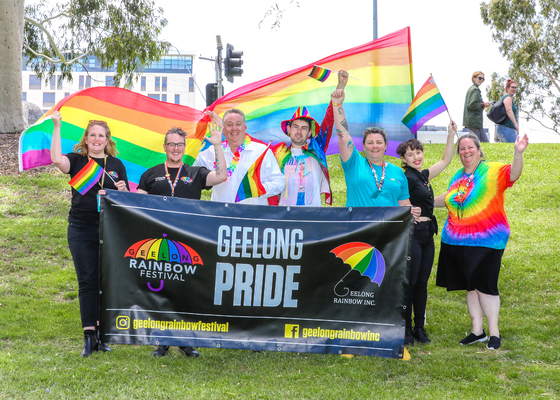 by Luke Voogt
Geelong Rainbow Festival kicked off on Tuesday, with organisers expecting record numbers in what they hope will be the event's biggest year yet.
"We are so happy to see the festival go from strength to strength," Geelong Rainbow Inc co-president Jo Bangles said.
"This year we are most proud of continued collaboration with council, as well as local businesses and event producers, which has seen the program increase yet again."
The event features sixteen ticketed and free events at locations across Geelong, including a pride march and fair day at Johnstone Park beginning 10.30am on Sunday.
Highlights of this year's festival included Geelong's only LGBTIQA+ health forum, ballroom dancing, performances, open mic story sharing and an "opening night party" tonight, organisers said.
The event's hosts include many prominent local businesses and employers, LGBTIQA+ support groups and internal pride networks at larger organisations.
The event boosted the city's profile as a progressive, inclusive and creative place to live, work and play, according to Geelong Rainbow Inc co-president Wayne Landkroon.
Meanwhile, Geelong's council has revealed the cost of a temporary rainbow crossing amid controversy over plans for a similar but larger crossing on Moorabool St.
Council's community life director Robyn Stevens said the stick-on decal rainbow on Little Malop St cost $1380 to install.
Councillor Anthony Aitken last week floated plans for a separate project to paint a larger rainbow across Moorabool St, sparking a storm of controversy on online.
Thousands responded on social media to the proposal, which Cr Aitken said would serve the dual purpose welcoming diversity and improving wheelchair access.
Ms Stevens said the crossing was still "in early planning stages" and City Hall had yet to estimate its cost.
"The planning stage will include extensive community consultation and engagement."